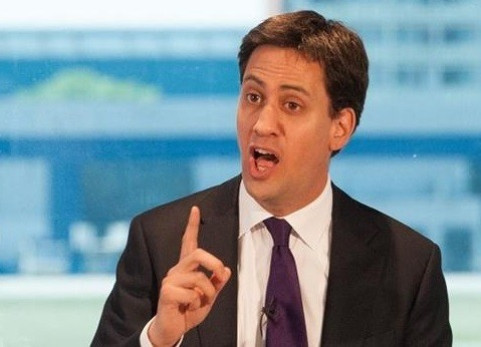 Ed Miliband has ruled out any further borrowing to reverse the cuts being made by Chancellor George Osborne should the Labour Party win the next general election in 2015.
The Labour leader refused to specify what changes he would make to Osborne's spending plans until he could be "absolutely crystal clear" where the money would come from.
Outlining the "hard reality" facing the country, Miliband pledged he would be "ruthless" in pursuing Labour's public spending priorities despite accepting the need for further cuts beyond the 2015 general election.
Miliband told the party's National Policy Forum in Birmingham: "Nobody here should be under any illusions. The next Labour government will have to plan in 2015 for falling departmental spending.
"And our starting point for 2015/16 is that we won't be able to reverse the cuts in day-to-day, current spending unless it is fully funded from savings elsewhere or extra revenue, not from more borrowing.
"So when George Osborne stands up next week and announces his cuts in day-to-day spending, we won't be able to promise now to reverse them because we've got to be absolutely crystal clear about where the money is coming from.
"It is the only way we can credibly change our country. It's a hard reality. I am clear about it. Ed Balls is clear about it. And everyone in the Labour Party should be clear about it too."
Setting out his stall on economic policy, Miliband said: "If we win that election in 2015, we will need to be ruthless about our priorities in public spending.
"We don't believe it is right to say that we should carry on paying the Winter Fuel Allowance to the very wealthiest pensioners, those with incomes over £43,000 a year.
"It is why we won't be able to make it a priority to restore child benefit to families who earn over £50,000 a year.
"And it is also why we've said, when there is a shortage of school places in some parts of the country, it makes no sense to do what Michael Gove is doing, building his Free Schools in other areas where there is a surplus of places.
"Our principle on education is clear: all our children deserve the best start in life, not just some. To those who question whether Labour has the determination to bring the deficit down, I say we will.
"And to those who question our ability to change things, if we show discipline, I say we can."
Miliband accused Osborne, who will deliver his spending review on Thursday, of asking the public to pay the price for his failures.
Miliband said: "We know what they should be doing next week. They should be investing in the future of our country.
"Even the IMF has called for a £10 billion investment in our economy in the next two years, because that is the best way to get growth in our economy. We can generate jobs, improve living standards, and yes, to pay the deficit down.
"But that's not what they're going to do. They're going to keep making the British people pay the price for their failure.
"For all the cuts, all the pain, all the tax rises, they are saying the deficit will be £78bn higher at the next general election than they planned."
Miliband said the recovery hailed by some economists had only served the wealthiest in society.
"It certainly feels like a recovery for those at the top, but it still feels like a recession for everybody else - wages down, prices up, living standards falling for longer than they ever have in our history," he said.
"This week we discovered that bonuses in our banks were higher this April than at any time since records began. Up 64% on a year ago as people have their first opportunity to take advantage of the millionaires' tax cut offered by David Cameron.
"That is the reality of David Cameron's Britain. We have to turn it round."
Reacting to his remarks, Conservative Grant Shapps said: "Ed Miliband only offers more spending, more borrowing and more debt.
"His refusal to admit that Labour spent and borrowed too much in government, and his call for more spending and borrowing now, shows that he's too weak to stick to his promise not to spend and borrow more.
"Hardworking people would pay the price with higher interest rates and higher bills. Ed Miliband only offers more spending, more borrowing and more debt - the same old Labour approach that got us into this mess in the first place."