Ed Sheeran has proved that not even a facial injury will stop him from performing. The Thinking Out Loud singer made a triumphant return to the stage in London last night (30 November) to perform a charity gig at the Natural History Museum. Clearly in good spirits, the singer joked about Princess Beatrice accidentally slashing his face in a prank gone wrong.
In support of the East Anglia's Children's Hospices (EACH) charity, the 25-year-old singer performed his first gig of 2016 after taking a break from the spotlight. Referencing the Princess Beatrice incident, Sheeran told the audience: "It's nice to be back. I've had a whole year off. I went to Japan for about a month and hung out with Japanese people. Got my face cut open, anyone read about that?"
At a party hosted at the Royal Lodge in Windsor, British singer James Blunt suggested Princess Beatrice pretend to knight him with a sword but she accidentally cut Sheeran's face when swinging to place the blade on Blunt's shoulders.
A source told The Sun that Princess Beatrice was "inconsolable" as Sheeran was taken to hospital to receive stitches for the gash on his face.
The insider added: "A couple of the guests said it could have been worse and he could have been blinded in the eye but Ed really played it down.
"Everyone was totally shocked and apparently Beatrice was very upset, But Ed was the perfect gentleman and told her it was just an accident."
The facial scar was visible during Sheeran's performance at the charity dinner.
Getting back into the swing of performing, Sheeran treated the audience to his most famous songs, including I See Fire, Thinking Out Loud and A-Team, spanning 45-minutes. It comes amid rumours that Sheeran is ready to return to the music scene after telling fans in 2015 that he would make a comeback this autumn.
In addition to working on new music, recent reports claimed Sheeran has written the X Factor winner's single with Simon Cowell's hopes to reclaim the Christmas number one spot. Sheeran's break was certainly well-deserved with the songwriter spending months on tour to support his best-selling album x.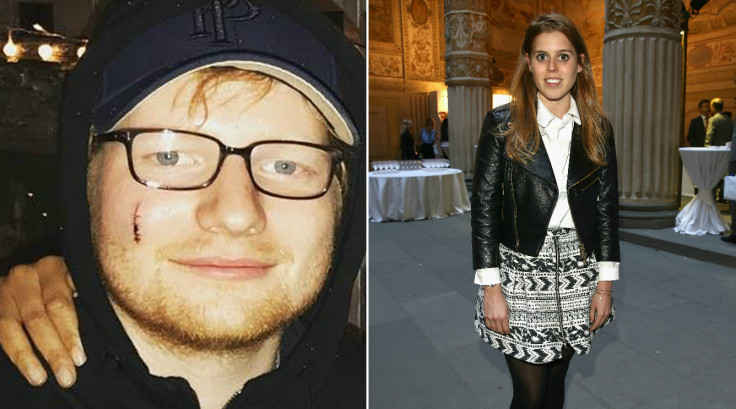 The trek included a history-making three nights at Wembley Stadium but even with all this success, Sheeran remains humble according to the executive producer of his concert films. Julie Jakobek told IBTimes UK: "He's such a warm character, he really is what you see. If nothing else, he's really as warm and engaging as you think he's going to be. There's no disappointment there at all so it's really nice to make a film with someone who is like that."
Watch Ed Sheeran perform at the EACH charity dinner: