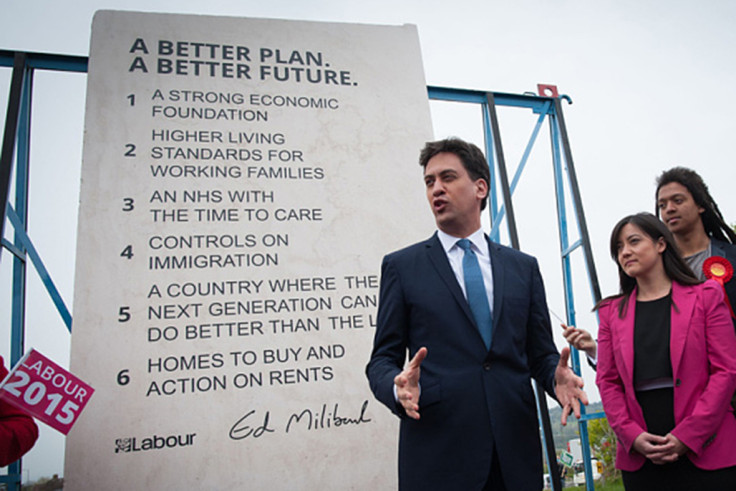 Labour has been fined £20,000 ($24,000) following an investigation into its spending during the 2015 General Election triggered by the now infamous "Ed Stone". The Electoral Commission handed out its largest ever fine to the party after it failed to declare 74 payments totalling £123,748, along with 33 separate invoices totalling £34,392.
Included among the payments which the party failed to declare was the £7,614 spent on 8ft 6ins stone tablet which Miliband promised he would plant into the garden of 10 Downing Street if he won the election. The stone, which had a list of pledges the party promised to keep if elected carved into it, was unveiled by former leader Ed Miliband in Hastings and Rye just days before the election on 7 May 2015.
As well as the missing items relating to the Ed Stone, an additional 24 items of expenditure with a combined value of £109,777 were also missing from the Labour's spending return.
A further investigation by the Commission also later found 49 payments relating to costs associated with the Labour Express tour and Labour Students tour totalling £11,357.
The investigation found Labour's general secretary, Iain McNicol, committed two election offences in relation to failing to declare spending of more than £200 missing payments and the 33 missing invoices.
The £20,000 fine handed to the Labour Party is the largest ever the Electoral Commission has ever imposed since it began operations in 2011.
Bob Posner, director of party and election finance at the Electoral Commission, said: "The Labour Party is a well-established, experienced party. Rules on reporting campaign spending have been in place for more than 15 years and it is vital that the larger parties comply with these rules and report their finances accurately if voters are to have confidence in the system."
The Ed Stone, which is said to have since been destroyed, was seen as a huge PR gaffe almost immediately after it was unveiled. One of the things it gained ridicule for was the fact it was unveiled in a car park as it was too heavy to take inside to the school hall where it was originally planned to be revealed.