Prospective candidates Eddie Howe and Alan Pardew have both joined Jurgen Klinsmann in distancing themselves from the vacant England job. U21 boss Gareth Southgate will take temporary charge of the senior team for their next four fixtures against Malta, Slovenia, Scotland and Spain after Sam Allardyce's 67-day reign came to an ignominious end in the aftermath of a damaging undercover sting from the Daily Telegraph.
US head coach Klinsmann, despite not being widely considered as a front-runner for the role, chose to head off any distracting speculation at the pass yesterday by insisting that there was "no truth to the rumours regarding England". He was linked with the post following the out-of-contract Roy Hodgson's decision to immediately step aside in the wake of a humiliating Euro 2016 exit to Iceland, but later claimed that he had never been contacted by The Football Association (FA).
Perhaps unlike Klinsmann, however, Premier League duo Howe and Pardew will surely be widely regarded as realistic contenders as the influential FA trio of Martin Glenn, Dan Ashworth and David Gill begin the unenviable task of another managerial search. And while both men concede that taking charge of the national team remains the crowning glory for an English manager, they also appear extremely reluctant to give up their current jobs with Bournemouth and Crystal Palace respectively.
"England is the ultimate job but I've signed players very recently here, pledged a future to them, the season and how it's going to unfold," Howe was quoted as saying by Sky Sports at a press conference held prior to the Cherries' top-flight visit to Watford on Saturday (1 October). "It's all hypothetical of course, but I couldn't turn my back on this club and the people that employ me. The loyalty they've shown me, I need to show in return."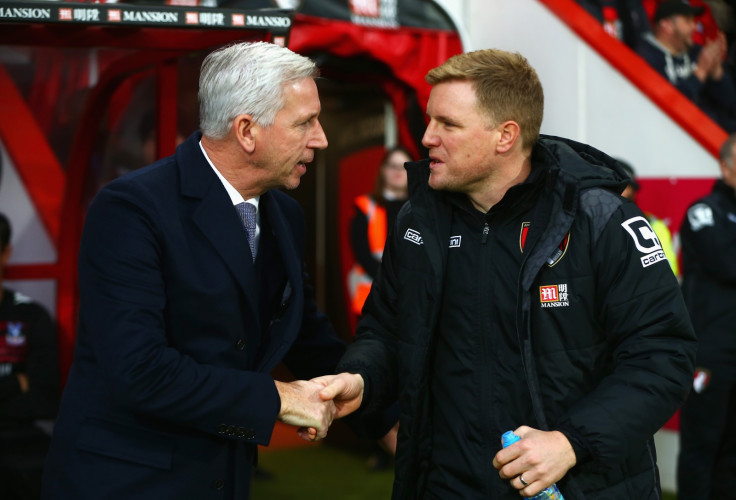 He added: "It sounds quite arrogant, but obviously I'm answering your question. I'm not interested in the job now, who knows what happens in the future. You can never predict football."
As for Pardew, speaking before in-form Palace travel to Everton, he agreed with Howe's sentiments that leading England was the "pinnacle" for any homegrown manager but also said: "Firstly, I think they've got a good manager in charge right now in Gareth. He's been through the system, he knows the players that are coming through. I have tremendous respect for him as a fellow player when I played with him and as a coach and a manager. I think he's got a bit of x-factor about him. He has four games guaranteed, I think he'll do well and I hope he does do well.
"Coming back to myself, I'm so lucky to have this football club where it is right now. The chairman and I have a great relationship, we have two American investors in Josh [Harris] and David [Blitzer] that have shown me great faith and I have a team that I really have a good feeling for. This football club, right at this time, is where I want to be. The fans have been terrific to me as they are and it kind of holds a special place for me anyway because I played here. So that's where my focus is entirely right now."
Long-serving Arsenal boss Arsene Wenger, meanwhile, admitted that he was flattered to be linked with the England job following a 2-0 Champions League win over FC Basel on Wednesday night (28 September), but provided a reminder that he is focused solely upon and contracted to the Gunners until the end of the 2016/17 season.