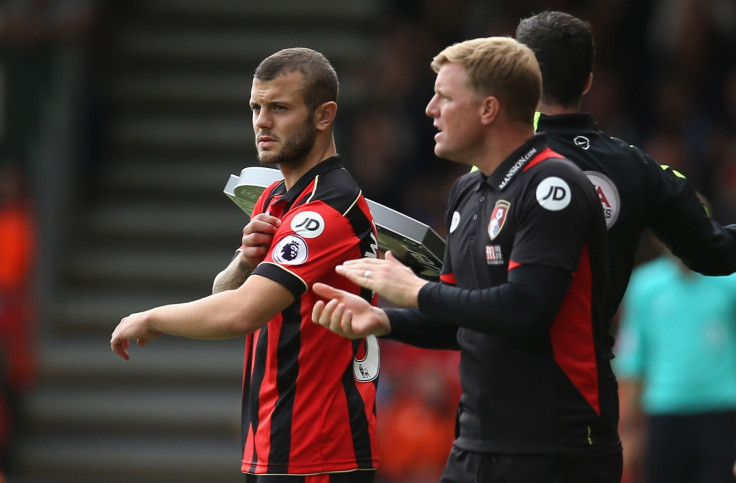 Bournemouth manager Eddie Howe is unwilling to risk handing Jack Wilshere his first start of the season before he has proven his fitness. The Arsenal midfielder made his Cherries debut for the final 27 minutes of the Premier League win over West Bromwich Albion, but there are already early concerns over his physical well-being.
The Sun understands the 24-year-old underwent a scan on a previously troublesome left ankle after the cameo appearance and was forced to train with tape attached to his right knee – another area of uncertainty. Wilshere has made just one top-flight start since the 2014-15 season and Howe is naturally cautious over his fitness.
Manchester City host Bournemouth at the Etihad Stadium this weekend, a game that would give Wilshere an early opportunity to impress parent club Arsenal – not least England boss Sam Allardyce – against Champions League opposition. But Howe has poured cold water over hopes of Wilshere starting the game, and stresses his fitness must be managed.
"With the outstanding quality he has, there's no doubt about that," Howe responded when asked whether he wanted to start Wilshere, according to Sky Sports. "We'd like to see him in the team as quickly as possible. It's a delicate balance between rushing him into the team and the long term. We have to think of that.
"We want him to play a lot of games for us so we'll put him in when we think it's right. I've been really pleased. I thought he had a big impact when he came on at a time in the game when the game was in the balance, really. We had lost the full control we had had in the first half and I thought he wrestled that back for us. It was a big contributing factor to us winning the game."
Wilshere moved to Bournemouth on deadline day of the summer transfer window after failing to start any of Arsenal's first three Premier League games. The former Bolton Wanderers loanee has already played as many matches this term as the whole of last season, after spending eight months on the sidelines with a hairline fracture in his calf bone.
Arsenal manager Arsene Wenger has already committed to recalling Wilshere from his 12-month loan spell at the end of the season and has backed him to become a key player for the club in the near future. "I hope personally that [Wilshere] stays his whole career here," he said, according to Sky Sports. "Jack is a world-class player. He doesn't have to show me he has the quality to play at Bournemouth, he just needs to be back at a competitive level."