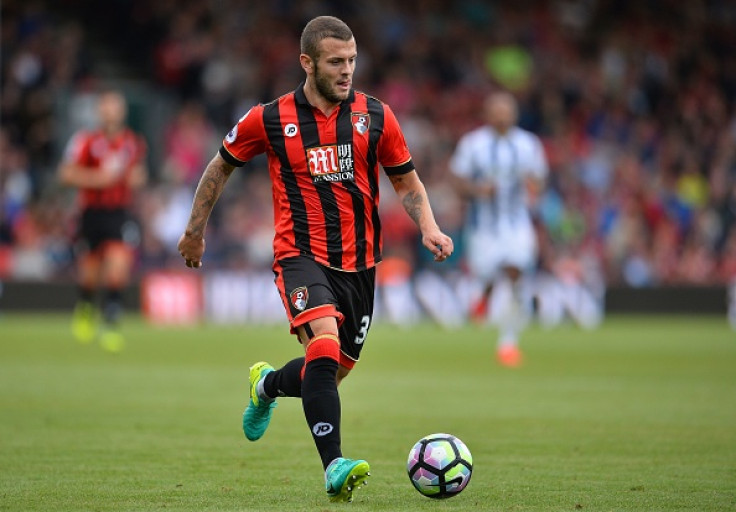 Jack Wilshere has put off Arsenal contract talks for the moment as he concentrates getting back to playing regular first-team football. The midfielder has indicated that helping loan club Bournemouth finish as high as possible in the Premier League is his main focus at the moment.
The England international joined the Cherries on a season-long loan and made his debut as a second-half substitute against West Bromwich Albion on Saturday (10 September). Wilshere has been plagued by injuries in recent seasons and made just three appearances for Arsenal last season.
The midfielder has revealed that the loan move was his decision after he was informed that he will not play regularly at Arsenal. Wilshere is keen to play on a regular basis after spending much of the last few seasons on the sidelines, and is hoping he can remain fit and play the entire season.
"I don't really want to talk about that at the moment. I've come here and I just want to get as many games as possible. I'm a Bournemouth player now in my head. I want to help Bournemouth get as high up the league and possible and also for myself I want to play 25 or 30 games this year. So I'm not really thinking about contracts or anything," Wilshere said, as quoted by the Daily Mail.
"I'm taking each game as it comes and working hard at training and in the gym to give myself the best opportunity I can at the weekend.
"At the end of the day the decision was down to me and it was best for my career. I could have sat at Arsenal and just come on now and then. I spoke with the manager and he said that I could play but that 'I can't promise it you now'.
"But that wasn't good enough for me, I want to play week in and week out. I'm at the stage of my career where I need to play week in and week out. I've come here and Bournemouth have given me the opportunity to do that, and in the Premier League so I'm just looking forward to the challenge," he added.
The 24-year-old midfielder also revealed that he is set to move to Bournemouth with the club said to be looking for a home for the player. The midfielder is currently residing in a hotel and is not keen to travel on a regular basis from his home in London.
"I'm not going to stay in London and travel down every day, you know two hours, that wouldn't be fair on myself or the team because I am trying to give myself the best opportunity to play week in and week out. So I'm in a hotel at the minute and I'm looking for a place," the on-loan Arsenal midfielder explained.