Eden Hazard will reveal his destination this summer after Belgium's friendly with England on 2 June.
The Lille winger is yet to make up his mind where his future lies with offers from Chelsea, Manchester City and Manchester United on the table.
According to Hazard's agent, John Bico, the trio have all agreed terms with the 21-year-old and are waiting on his decision.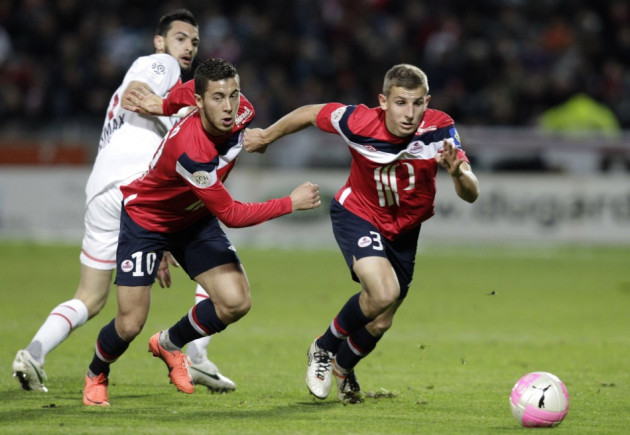 "We are no longer in the negotiations stage," Bico said. "We have reached agreement with all parties. There will be no higher bid.
"Eden has already said he wants it to be fixed before June 2. He will decide after the Red Devils' (Belgium) games against Montenegro and England, then go on holiday with peace of mind.
"Eden is in the reflections stage and a decision will be taken quickly," Bico added. "Those who have come forward have a one-in-three chance (of success)."
Belgium take on Montenegro on 25 May, over a week before travelling to Wembley to face Roy Hodgson's England, in the new manager's first home game in charge.
With the player set to announce where he'll be playing his football next season, Hazard will bring an end to months of speculation over his future.
However, having previously stated his future would be sorted after his final appearance for Lille last weekend, which he subsequently went back on, suitors will be wary.
Hazard went out in style in his final game for Lille, scoring a hat-trick in a 4-1 win over Nancy, a club where he won the domestic double last season, and the Ligue 1 Player of the Year in consecutive seasons.
His haul of 20 goals in Ligue 1 this season is his highest in his club career, as he started 35 of Lille's 38 league games.
Chelsea recently re-entered the race for Hazard after qualifying for the Champions League, while City and United are understood to be fretting over the winger's £200,000 wage demands.
City have reportedly offered a deal worth £110,000 a week, while United have concerns over his £35 million valuation.
Having seen Didier Drogba depart for pastures new, and with Salomon Kalou and Florent Malouda both likely to leave, additions to Chelsea's attack are required.
Having already signed Marko Marin from Werder Bremen, Chelsea would have a tough task fitting in two naturally left-sided players in their first-eleven.
Meanwhile, last season's Premier League pacesetters; City and United, will see signing the Hazard as a major victory in the transfer market as both seek domestic dominance.