If Chelsea do indeed avoid collapsing like the proverbial Devon Loch and prevent Tottenham Hotspur from hijacking their pursuit of the Premier League title then the pair's FA Cup semi-final meeting might prove to be the pivotal juncture in their assent to a possible double. Thanks to two pile-drivers from substitute Eden Hazard and Nemanja Matic - differing in execution but similar in quality - the Blues slalomed through a pulsating and classic clash at Wembley to reach their fifth final in 11 seasons.
Warped by fear at having their lead at the top cut to four points, Conte left both Hazard and Diego Costa on the bench while Nathan Ake was handed his first appearance against top flight opposition since January. Willian and Michy Batshuayi were also entrusted in keeping the club's hopes alive of claiming the much-coveted league and cup double.
But what followed was not the brutal exposure of the Italian's selection decision - a week after he was tactically outthought by Manchester United's Jose Mourinho - as the west Londoners' campaign was enriched by cup success rather than undone. Meanwhile, Tottenham's awful run at their new temporary home continues and they failed to win for the eighth time in their last nine visits, ahead of a campaign they are set to be housed for at least the next 12 months. Though the manner of the defeat could have greater ramifications for their title challenge
Initially, the pre-match narrative which had been dominated by Conte's starting eleven was torn to shreds by the league leaders. Ake, Michy Batshuayi, Pedro and William all represented the questionable selections yet they combined to thrust Chelsea into an early lead. A fine tackle on Harry Kane saw Ake sweep a long pass to Batshauyi, whose flick released the spritely Pedro. Toby Alderweireld was forced to take desperate measures to prevent the Spaniard reaching the penalty area, hacking him down, but could not prevent the goal as Willian beat Hugo Lloris with a free-kick with buddies of pace which crashed into the corner.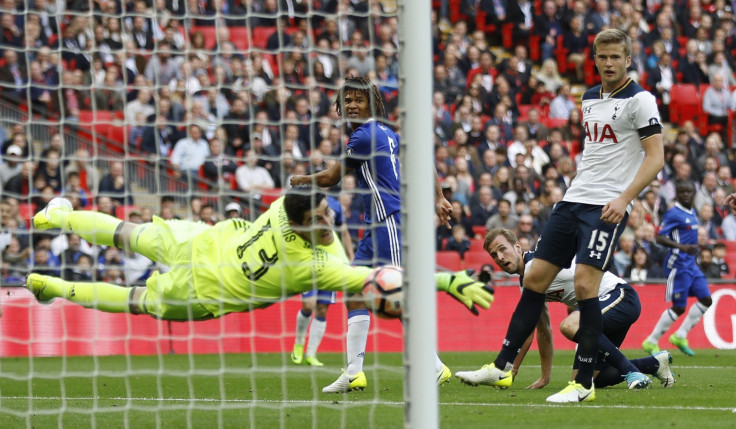 Conte would have been forgiven for breaking into a brief smirk, but it would have been premature. An unlucky 13 minutes had passed since Willian's curled in the opener when N'Golo Kante failed to cut out Christian Eriksen's cross and Kane stooped with a deft header to beat Thibaut Courtois. For all the Chelsea's goalkeeper's well-documented NBA exploits, there was no stopping Kane claiming his 32nd goal of the season.
Mistakes has swung the momentum of the contest and just as Kante's lethargic display had defined Chelsea's transformation from pace-setters to being under the cosh, they were offered a route back into the lead via a gift from their capital rivals.
Son Heung-Min, deployed at full-back in an effort to drive back Victor Moses, looked a fish out of water when he dived in unnecessarily on the Nigerian, who made the most of the challenge and his fall earned a penalty two minutes before the break. Willian continued his set-piece superiority over Lloris by sending him the wrong way to re-establish the lead.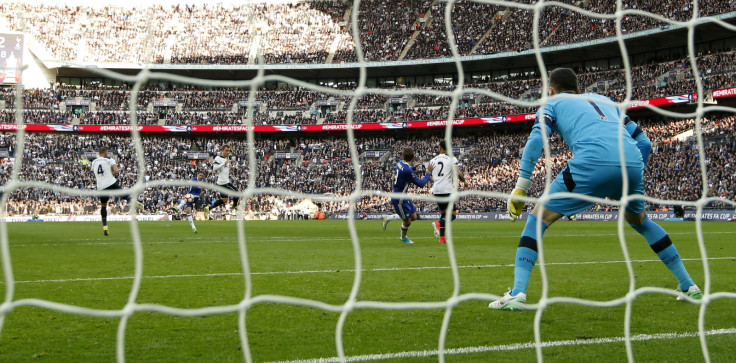 When the France captain did get a belated hand on the ball before the break it came clearly outside the penalty area - though missed by referee Martin Atkinson and his team who were enduring far from their finest hour. But with the closest Chelsea attacker Batshuayi having turned his back on the ball, the incident was not preventing a goal-scoring opportunity which would have led to a certain red card.
Seven minutes into the second half and the FA Cup pendulum swung back Tottenham's way with what at the time was the game's outstanding moment, but would eventually be overshadowed. Eriksen channeled his inner David Beckham with an outstanding cross from 35 yards out which outfoxed David Luiz and allowed Dele Ali to stroll in and convert.
Conte responded to Tottenham restoring parity by introducing Hazard and Costa on the hour mark. Seven days before Anthony Joshua and Wladimir Klitschko's unification fight at the same venue, punch and counter-punch had illuminated the first semi-final at Wembley. There might not have been any gloves, ring girls or bells on offer this weekend, but there was to be a pair of knockout blows fitting of the contest.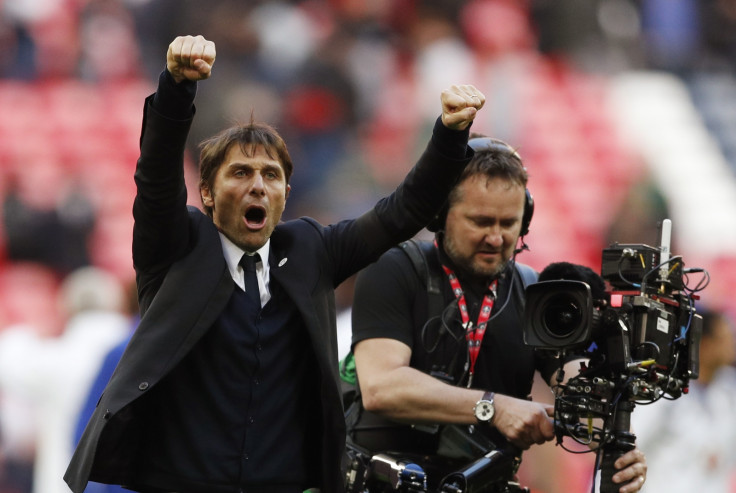 Typically, the first came from Hazard. Chelsea stemmed the flow of Tottenham pressure with their first corner of the game and as the Belgian lingered on the edge of the penalty he collected the half-cleared set-piece and drove through the crowd of players and beyond Lloris. Passage into a 12th final was then assured when Hazard drew defenders and teed up Serbian Matic whose thunderous strike reverberated around the home of English football like any stinging right hook.
Even an inexplicable Courtois error, as Kane's free-kick slipped through his grasp but spun back away from the goal-line, could not save Tottenham as Chelsea enhanced their credentials for the double and simultaneously landed a potentially decisive jab in the title race.