Chelsea star Eden Hazard has been backed to rediscover his best form ahead of business end of the season and spearhead the Blues' assault on an FA Cup and Champions League double. Goalkeeper Thibaut Courtois and defender Cesar Azpilicueta believe the under-fire Belgium international will shake off rumours regarding a move Paris Saint-Germain or Real Madrid and reproduce the type of performances that inspired his side to the Premier League title last season.
Hazard guided the club to the league title and the Capital One Cup last term in an impressive campaign, which saw him net 19 goals and provide 12 assists in all competitions as well as scooping three player of the season awards. However, the 25-year-old has struggled to replicate that form, and his future at the club has subsequently come under scrutiny.
Courtois and Azpilicueta insist Hazard is aware of his shortcomings and are confident that after the 5-1 FA Cup thrashing of Manchester City, during which Hazard scored once and made two assists, a recovery is in sight.
"The truth is that he was not playing as the same level as last year. He knows this himself," Courtois told IBTimes UK. "He is trying to improve but when the whole team are struggling it is difficult for him to make the team win. I think now he is doing well again, he is improving every day. [Against City] he scored twice and provided two assists. I hope he can continue that run."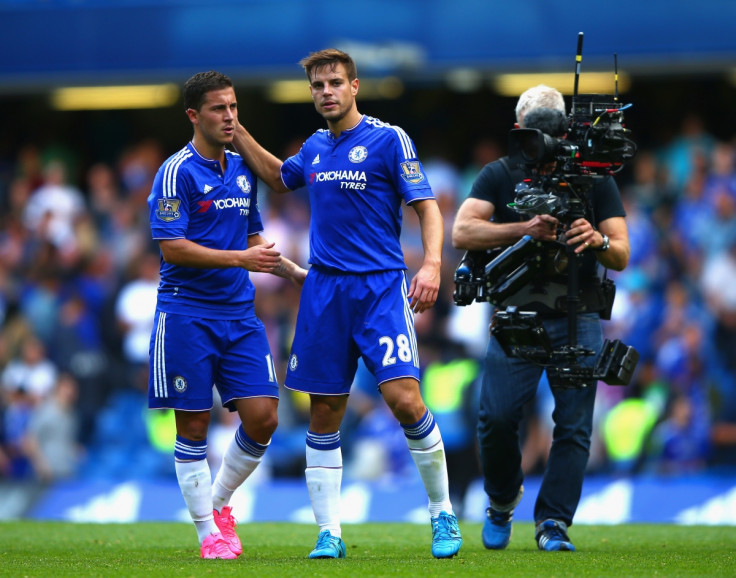 Azpilicueta, who is one of Hazard's closest friends in the dressing room, agrees: "I have a very good relationship with him. The truth is that he tried but this is football. Sometimes things do not go as you want. That confidence is picking up gradually and hopefully we will see the best Hazard from now own.
"[Against City] he had a great game. He was decisive with two assists and a goal. We need everyone at their best because we have a difficult end of season. Little by little we are finding form again. Obviously we were not playing as we wished. The team are feeling better now but there is more room for improvement."
Hazard's future in West London has been thrown into doubt in recent months. He was dropped by Jose Mourinho in the manager's final weeks at Chelsea, and reports then claimed that a lack of Champions League football next year would see him make a summer exit to a fellow European giant.
The 25-year-old did little to defuse the situation, saying it would be hard to turn down a move to a club who can win the Champions League such as PSG or Real Madrid. Courtois has defended his teammate, though, and claims he has been misunderstood.
"I do not think he is affected by the rumours. That's just the press. I think sometimes his words are misinterpreted," his fellow countryman insisted. "Sometimes you journalists ask difficult questions. He just try to play his best but, as the whole team, we had a poor season until December. But we are starting to improve. We have only lost one game, against PSG, in recent times. That's good!"