'The Pitbull' during his playing days, there's no doubt the next chapter of Edgar Davids' football career is likely to include the same kind of tenacity.
Part of a boardroom power struggle at Ajax before resigning in February 2012, Davids has built a career on wrestling away control, and now at Barnet he has ambushed manager Mark Robson.
The former Netherlands midfielder will share duties with Robson, who built his career on spells at Exeter City and Plymouth Argyle before his big move to Charlton Athletic in 1993; Davids had already won the UEFA and Dutch cups by that stage in his career.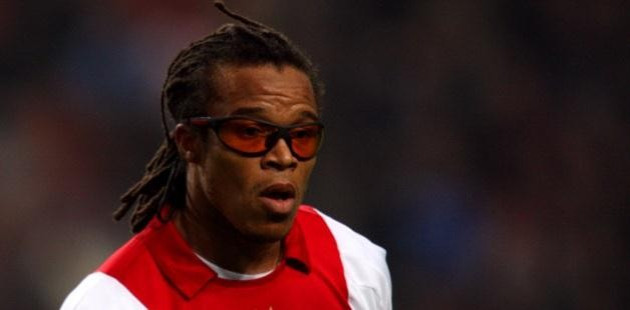 You need only spend a few moments inside Underhill to realise that Robson is currently steering a sinking ship. No wins in the 2012/13 campaign, seven goals in 11 games in League Two, rapidly decreasing crowds and a thread-bare first-team squad.
The only light at the end of the tunnel is the club's youth system; among the best in the country let alone among the Football League's basement clubs, relegation to the conference would severely affect the club's main asset.
With Robson in charge, the club were always liable to go down fighting, and with some dignity along the way. If Barnet have produced one thing along their plucky football league journey, it's that amid a lack of physical presence, their free flowing, clever football is seemingly inherent within The Bees' walls.
But you wonder, with Davids on board, how much dignity the club can retain towards their exit from the Football League. Joint-managerial reigns have a habit of relinquishing significant power and influence from the man originally in charge and causing genuine disruption; see Gerard Houllier and Roy Evans's tenure at Liverpool for example.
Davids' coaching experience is non-existent, and if Barnet were hoping he can pass on some of his experience to the current first-team squad; they'll mostly have left by the end of the season, if not January.
It might be self-defeatist, but Barnet must be thinking about next season already; but in recruiting Davids they are making their exit to non-league football look desperate and shameful.
Furthermore, you wonder what the motives of Davids truly are. While it is unlikely he's craving a power struggle with Robson, eyebrows have been raised following the former European Cup winner's switch to north London.
One possible motivation could be Davids' ambition to attain his UEFA Pro license, which requires coaches to be based at clubs for five months of the course. The 39 year old has recently begun his upgrade from his A license.
However brief Davids' tenure at Barnet may be, with a playing contribution also muted, crowds are bound to improve, and with it, the club's cash flow. Let's hope that is the extension of chairman Anthony Kleanthous' ambitions, because he's likely to be disappointed in many other departments.