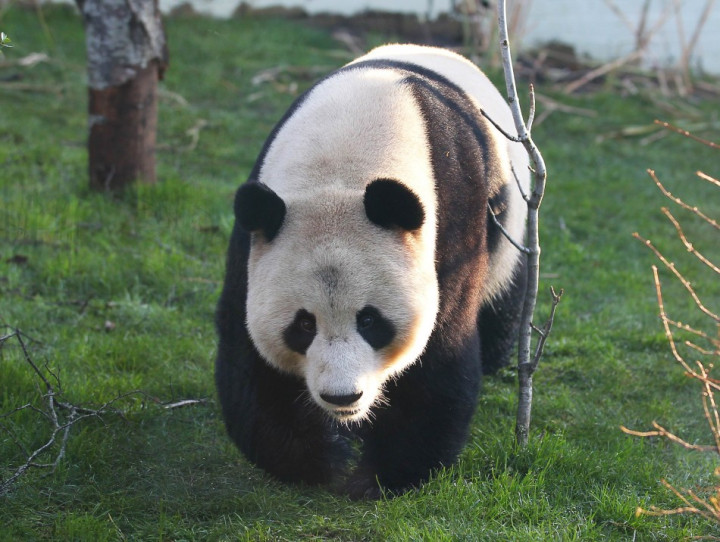 Edinburgh Zoo's announcement that its female panda, Tian Tian, is pregnant and could give birth by the end of the month has sparked speculation on social media that the timing could be perfect in swinging victory to the Yes Scotland Campaign in September's referendum.
Tian Tian ("Sweetie") was artificially inseminated after she failed to mate with Yang Guang during the annual breeding season in April. On Monday, the zoo announced that pregnancy tests showed the panda was carrying a cub, but stressed the pregnancy could fail to reach full term.
Some Twitter users think Tian Tian's pregnancy could provide a push for the Yes Scotland Campaign, which wants Scots to vote to leave the United Kingdom in the referendum next month.
As the news was announced, Sky News journalist @TomBoadle asked: "Coincidence or clever piece of election engineering?"
The pandas have been embroiled in the independence debate before as it emerged in 2012 that the Edinburgh Zoo animals could be caught in a 'tug-of-war' between the Scottish and UK governments if Scotland breaks from the union.
Tian Tian and Yang Guang are on loan from the Chinese government for ten years and were shipped over in December 2011. Any panda cub born at Edinburgh Zoo will be returned to China with its parents once the ten years are over.
Tian Tian suffered a miscarriage last year after she was inseminated with fresh sperm from Yang Guang and a frozen sample from dead panda Bao Bao.
Iain Valentine, director of giant pandas at Edinburgh Zoo said: "The latest scientific data suggests Tian Tian the giant panda is now pregnant and that implantation has taken place, therefore she may give birth at the end of the month. This is all very new and complex science and we still have a bit of time to go yet, as like last year, the late loss of a cub remains entirely possible.
"Just to recap, artificial insemination was carried out on female giant panda Tian Tian on Sunday 13 April 2014. Our team of internal and external experts have continued to analyse specific hormone and protein levels on a daily basis in Tian Tian's urine."
Two zoo representatives from China are due to travel to Scotland in mid-August to continue monitoring Tian Tian's pregnancy progress.
Pandas are notoriously hard to breed in captivity and often show 'pseudo pregnancies' in which the signs of conceiving are similar but false. The female panda's reproductive cycle means they are only 'in heat' for 72 hours a year and can only become pregnant during a 12 to 36-hour window during this time.
Wildlife experts say that there may be as few as 1600 giant pandas in their natural habitat and a further 300 in zoos around the world.
The Edinburgh Zoo pandas, both aged 10, are the first pandas to live in the UK for 17 years.