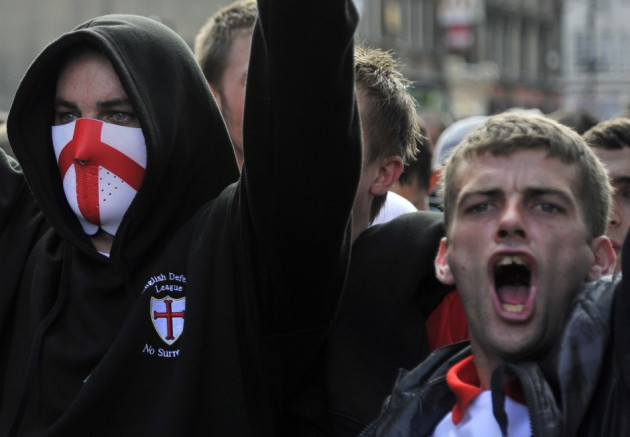 Plans by police to corral English Defence League (EDL) supporters in a Birmingham pub has led to warnings that a drunken mob will be unleashed on the ethnically diverse streets of Britain's second city.
According to the anti-fascist magazine Searchlight the right-wing protesters will be kept at Bar Risa in Broad Street for three hours - raising fears of a repeat of the alcohol-fuelled disorder witnessed at a previous city rally in September 2009.
The West Midlands force has drafted in 1,000 officers to police the Centenary Square event, with hundreds of EDL supporters reportedly travelling from around the country to attend.
Anti-fascist groups are planning a rival demonstration in nearby Chamberlain Square.
A spokesman for Birmingham's Unite Against Fascism said: ''The police should not be enabling the EDL to drink for hours before holding a demonstration in our city centre.
''They should not be pressurising bars into allowing their premises to be used by the EDL.
''It is an outrage that they should be expected to accommodate a gang of racist thugs.
''We urge Bar Risa to close its doors to the EDL.''
A previous EDL protest in Birmingham in September 2009 saw a series of violent street clashes, after supporters were allowed to meet up and drink at the Figure of Eight pub in Broad Street.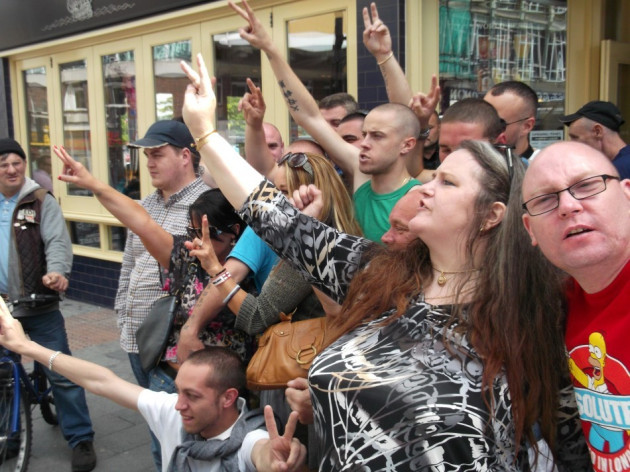 Extreme Measures
Helen Gower, personal assistant to EDL leader Tommy Robinson, told IBTimes UK that the measures in place for the Birmingham march were excessive and unfair.
"Being locked in a pub is unnecessary. West Midlands Police are hoping for something to spark by shutting us in a pub that long.
"We only found out last night that in the Birmingham Symphony Hall, where we are, there is an Afro-Caribbean youth festival going on but the police didn't tell us about this.
"The organiser issued a press release saying they were concerned about the EDL but Tommy [Robinson] has rung the organiser saying the EDL aren't looking for any trouble. West Midlands Police don't seem to be doing anything - they're just trying to ignite a ltitle spark."
Gower also defended her movement against accusations that its members' behaviour was draining taxpayers' money.
"We also are taxpayers and no, it [the cost] is not unreasonable. It wouldn't cost so much if the UAF [Unite Against Fascism] didn't always counter-protest. [The rival groups] have to bear some of the increase in cost.
"Why is the EDL being singled out?
"There's also something wrong with the police forces and the government that compel us to march, for not dealing with the problem of Muslim extremists."
EDL: The Price of Democracy
New figures reveal that Britain's police forces have spent at least £10m guarding marches by the EDL in just four years - to the alarm of law enforcement bosses.
The figures show that police in Bedfordshire - which encompasses the EDL's hometown of Luton - has spent almost £2.5m controlling the EDL since the group was founded in 2009.
West Yorkshire Police have spent nearly £2m, while the cost to Cambridgeshire and Lancashire is approaching seven figures.
The total value of the costs submitted to the BBC easily exceeds £10m - and the real figure could be far higher as several forces, including the Metropolitan Police, said they could not provide a firm cost.
West Midlands Police commissioner Bob Jones said that the cost of policing the anti-Islamic group was causing "considerable concern".
Jones, whose force has spent £500,000 on EDL marches since 2009, said: "We find it grossly unhelpful that this group is coming to demonstrate here again. They are extremely unwelcome and it is likely to blow a very significant hole in the police budget.
"There will be over 1,000 officers mobilised and it's likely to be one of the largest and most expensive operations we mount this century.
"We've had significant reductions in our budget and policing these demonstrations is a significant cost and strain on our already stretched budgets."