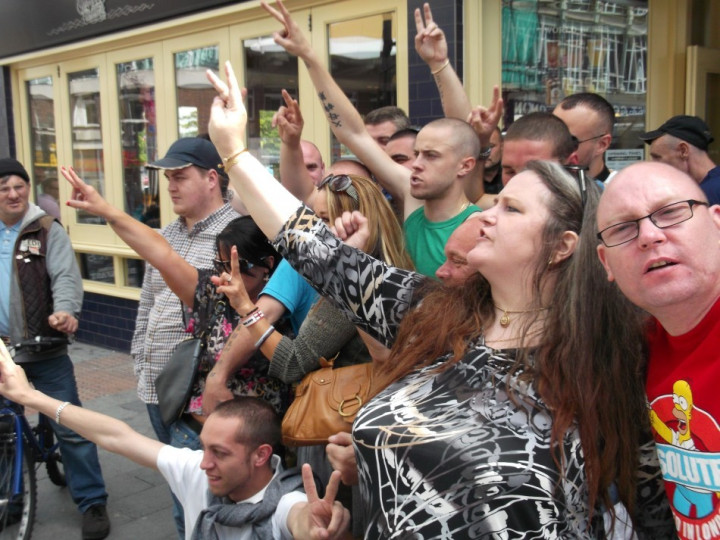 Over 1,000 extra police officers will be deployed across the centre of Birmingham to quell violence during Saturday's protest by the English Defence League.
Dozens of officers have been drafted in from other forces across the country to prevent clashes between the EDL and Unite Against Fascism, which is holding a demonstration just a few streets from the far-right gathering.
The UAF is calling supporters to congregate in Chamberlain Square, around 200 metres from the EDL demonstration in Centenary Square.
Robinson, who was arrested during a march through East London on Armed Forces Day, insists that the EDL event will be a "peaceful protest." However he conceded that his followers "will wish to defend themselves" if provoked.
The EDL march follow a string of attacks on mosques around Birmingham, one of Britain's most ethnically diverse cities, following the murder of soldier Lee Rigby by suspected Islamic extremists.
In the wake of Rigby's murder, a swastika was daubed on the wall of a mosque in the suburb of Redditch, alongside the initials 'EDL', while a bomb exploded outside a masjid in Tipton, and police were called to remove a 'suspicious package' near an Islamic hub in Walsall.
'Heightened tensions'
Sharon Rowe, assistance chief constable of West Midlands Police, said the authorities were powerless to prohibit "static protest" but insisted that a comprehensive police plan was already in place to protect Birmingham from further violence.
"We are aware some communities, locations or individuals might feel vulnerable given the nature of the protests, as well as heightened tensions following the explosion in Tipton at the weekend" said Rowe.
"A large-scale, substantial and visible policing operation is in place across the whole of the West Midlands.
"This will not end when all those involved in the protests go home on Saturday night - we will continue to work with communities and provide additional patrols across the city long after the protesters have left."
'Everyone has a breaking point'
The EDL protest in Centenary Square will feature speeches from Robinson and his co-founder Kevin Carroll, who was also arrested during the march through east London on 29 June.
Robinson's personal assistant, Helen Gower, told IBTimes UK that the speeches "will be based on the extremist activity that's been going on here", and said there "should be no grounds at all" for officers to arrest Robinson and Carroll again.
Gower also said the planned police presence was excessive and wrong-headed.
"I don't think it's justified, but there again they always allow the UAF and NDL to be as near as possible. When it comes to counter-demonstrations we always ask for 'no line of sight', but we never get it.
"Of course our members should be able to control themselves, but when they're having missiles thrown at them...everyone has a breaking point, don't they?"