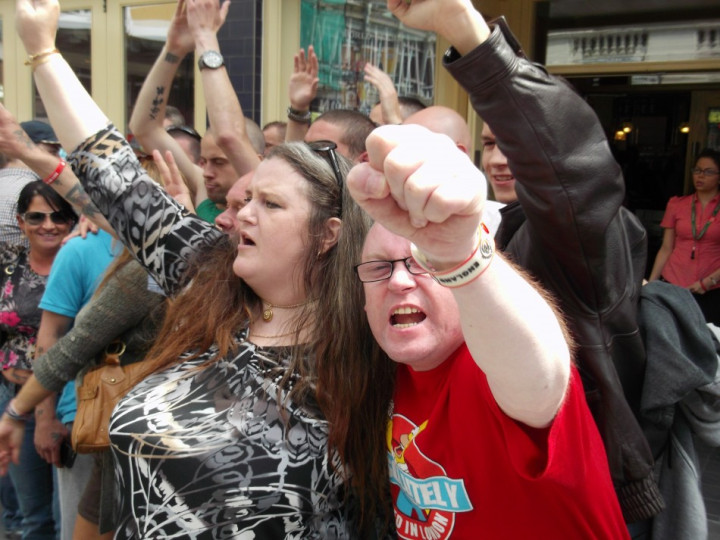 British, Asian and Nigerian mourners gathered in Woolwich on Saturday 29 June to pay their respects to the murdered soldier Lee Rigby - with dozens of police officers watching on.
The atmosphere was tense as a delegation from the far-right English Defence League (EDL) visited the site of Rigby's murder to lay wreaths of remembrance, while large mobs of EDL supporters flocked to nearby pubs.
Officers interviewed by IBTimes UK said there were no major flashpoints, despite earlier reports that members of the Unite Against Fascism (UAF) movement would converge on Woolwich to oppose the EDL sympathisers.
However, the mood turned sour as mourners who had been drinking all afternoon vented their frustrations about Rigby's killers.
One mourner interviewed by IBTimes UK said: "My missus, two of her brothers got killed, one by a Chinese geezer, the other by a black geezer, stabbed up. The geezer who killed her brother, two hung juries - that's not in the news.
"Is Stephen Lawrence in the news? Yeah it is. Why is my missus's brother not in the news? Because he's f*****g white, it's as simple as that."
Thrusting his face inches away from our reporter's, the mourner continued: "There's no f*****g law for us, because we're white. No one sticks up for us."
A group of young EDL supporters were happy to pose for pictures outside the Great Harry pub, chanting "EDL", "No surrender" and "These Streets, Our Streets".
One member of the group told us: "[Robinson's] arrest didn't prove anything. He was doing his bit for charity, he should have been allowed to do the walk. Everyone's forgetting that he raised over £5,000 to charity, for a good cause, and he's victimised for it.
"The reason the police gave [for arresting Carroll and Robinson] was that Tower Hamlets is a Muslim area. If the government is striving to make London multicultural, how can the Met Police, who work for the government, say one area is Muslim?"
The mourners were peaceful and co-operative outside the pub. However, reports suggest that a female journalist was threatened when she tried to enter the Great Harry later in the day.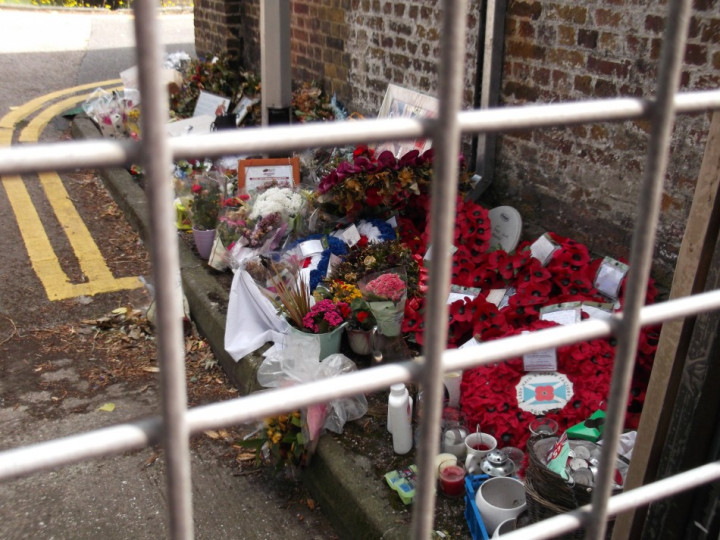 Multiracial support
One mourner, Sohan Singh, came from India to pay his respects. He said: "I am here for Lee Rigby, to pay tribute. I have served in the Indian army, I was a captain, and I recognise that he has given his life for his nation. When I heard of this brave soldier I had to come, I wanted to sign that book."
Singh's son Raj, who lives in the UK, added: "Lee Rigby was a serving soldier, like my dad. I grew up in the army and I know the army has a lot of respect.
"The Islamic terrorists, what can you say? These people have no brains whatsoever. Religion doesn't teach you this, it's barbaric and horrifying."
Nigerian community leader David Doherty, who works to rehabilitate local gang members, said he had raised money for Rigby and had met Robinson personally.
"The boss [Robinson] was with us at a fundraising event last Saturday, he was just sitting down quiet, peaceful, he thought what we were doing was right, we were raising money for Lee Rigby.
"I don't want to go too deep on the EDL. I'm free and neutral, peace in the community is what we're about.
"The African community condemns [the murder]. This is a multicultural community and we're all part of it."
READ MORE:
EDL Leaders Tommy Robinson and Kevin Carroll Arrested in East London
Lee Rigby Woolwich Tribute: EDL Says it with Flowers [PHOTOS]