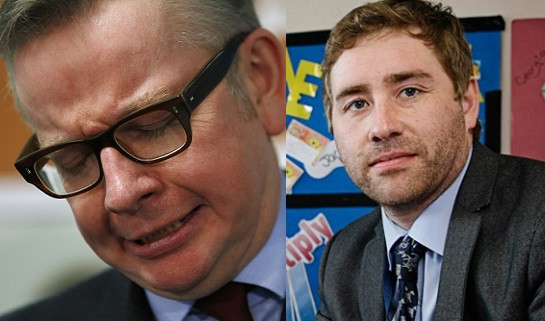 One of the teachers who starred in the Channel 4 series Educating Yorkshire dedicating the show's Royal Television Society award to education secretary Michael Gove in a less than flattering way.
Michael Steer, a maths teacher who featured regularly in the documentary series set in Dewsbury's Thornhill Community Academy, appeared on stage to collect the award for best documentary series prize at the ceremony in London.
Steer told the audience during his acceptance speech: "On behalf of teachers I'd like to dedicate this award to Michael Gove and I mean dedicate in the Anglo Saxon sense, which means insert roughly into the anus of."
Elsewhere, Idris Elba took home the best actor prize for his performance in BBC 1's Luther, while Olivia Colman won the best actress prize for the second year running for her role in ITV's Broadchurch.
Stephen Fry also won best presenter for his series Stephen Fry: Out There, in which he travelled to countries across the world to discover how they view gay people.
During his acceptance speech, he paraphrased Winston Churchill by saying: "I think you can judge a civilisation by the way it treats its minorities."
RTS Winners: Full List