New files leaked by NSA whistleblower Edward Snowden show that UK and US intelligence agencies have been spying on Israel's drones and fighter jets since 1998 in order to predict how possible Israeli military operations in Syria, Iran and Gaza could affect stability in the Middle East.
The leaked files pertain to a classified programme known as "Anarchist" that was conducted by GCHQ and the NSA, whereby operatives hacked into the live video feeds of Israeli drone fleet from a mountain top in Cyprus in order to get a bird's eye view of what the drones were seeing, according to the Intercept.
It is an open secret that Israel flies drones that carry missiles, but the Israeli government has never acknowledged this claim. However, the footage captured by the Anarchist programme provides rare visual proof of this claim, as well as images of several other different types of unmanned aerial vehicles (UAV).
And although much of the footage is grainy, one black and white still of a drone in mid-air clearly shows a large missile-shaped object on the left of the UAV, while a GCHQ report from 2009 mentions "regular collects of Heron TP carrying weapons".
Spies hacked into the Heron TP military drone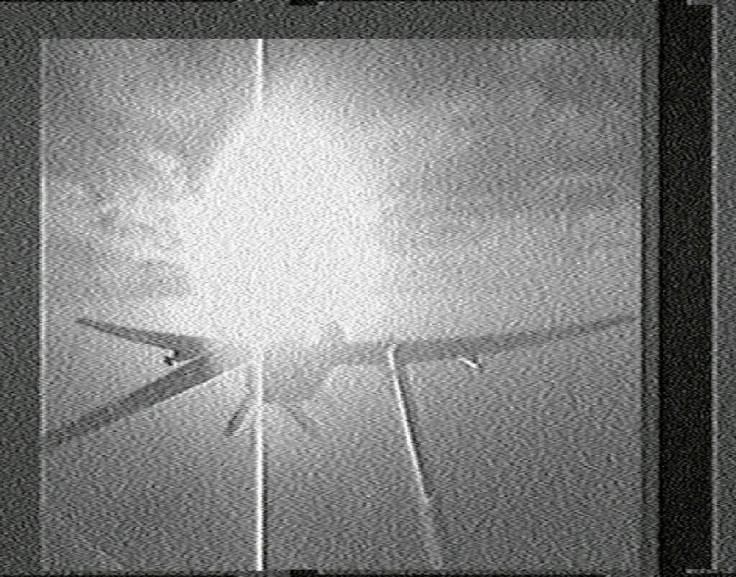 The Heron TP (also known as the IAI Eitan) is a large military drone by Israel Aerospace Industries that is designed to carry a variety of payloads and fly through all weather conditions above commercial traffic. On 12 January, Germany's ministry for defence announced a new deal to use the latest variant of the Heron TP for its military missions too.
"It certainly looks like the missile-shaped objects are weapons. The bodies appear to have cruciform tail fins. The distortion makes it a bit too hard to tell size but — assuming they are bombs — these are definitely less than 500-pound class," Bill Sweetman, an editor at Aviation Week told the Intercept.
And since the Heron-TP is an Israeli strategic intelligence system, the objects could be decoys, used to "force a response from Iran's air defenses, while the UAV orbits and hoovers up signals", Sweetman added.
According to Ronen Bergman, an investigative reporter with the best-selling Israeli newspaper Yedioth Ahronoth, which will be publishing its own report on the drone hack on Saturday 30 January, the Israeli military began encrypting drone video feeds after an incident in 1997 when the Hezbollah killed 12 Israeli commandoes in an ambush in Lebanon, so this revelation will be of concern to the Israeli government.
It shouldn't have been possible to hack the drone feeds
"The broadcast was supposed to be completely secure," said Bergman. "If the NSA and GCHQ were able to crack that, it would come as a big surprise, and might well lead to the launch of an inquiry."
GCHQ Anarchist training manuals from 2008 included in the leak explain that since the Israeli drones were scrambled in a way similar to the method used to scramble premium satellite and cable TV channels, it is possible to decode images using a freely available open source software called AntiSky, which was developed by the Friedrich-Alexander University Erlangen-Nuremberg in Erlangen, Germany.
In December 2015, a Wall Street Journal report claimed that although the US had promised to stop intercepting the communications of friendly heads of state following Snowden's revelations, the US had continued spying on the Israeli prime minister Binyamin Netanyahu, as well as other top Israeli officials.
IBTimes UK has contacted the Ministry of Defence, the NSA and the Israeli Ministry of Defence for comment, and is waiting for a response.