Following a surprise meeting with a German MP, NSA-whistleblower Edward Snowden has indicated he would be willing to give evidence against his old employers.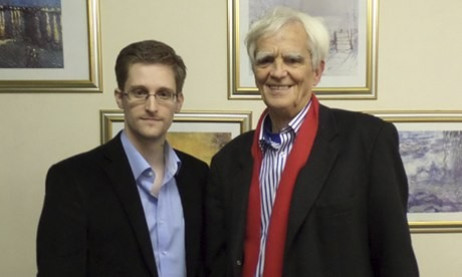 Snowden met with veteran German MP Hans-Christian Stroebele of the opposition Green party in Moscow on Thursday, to discuss the possibility of Snowden giving evidence against the NSA in a potential parliamentary inquiry in Germany.
According to Strobele, Snowden indicated his openness to travelling to Germany in order to give evidence in person:
"He made it clear he knows a lot and that as long as the National Security Agency (NSA) blocks investigations..., he is prepared to come to Germany and give testimony, but the conditions must be discussed."
However given the complications of Snowden's situation, Stroebele told him he could also give evidence from Moscow.
Letter for Merkel
Snowden handed Strobele a letter which is addressed to German chancellor Angela Merkel, the contents of which are due to be read publically later on Friday. Merkel was personally drawn into the NSA surveillance scandal when it was alleged the US spying agency had been tapping her mobile phone for more than a decade.
Merkel was one of 35 world leaders who are said to have had their communications tracked by the NSA.
The meeting of Snowden and Strobele came as US and German security officials met in Washington in a bid to ease growing tensions between the two countries.
Public inquiry
The Bundestag, Germany's parliament, will hold a special session on 18 November to discuss the NSA surveillance of Merkel's communications, with the Greens and far-left Left party demanding a public inquiry.
Snowden has been living in Russia since landing there from Hong Kong on 23 June. After six weeks living in the airport, Snowden was granted temporary political asylum by the Russian government after multiple failed attempts at securing asylum in many other countries, including Germany and the UK.
Germany turned down Snowden's application at the time because the foreign ministry said, legally, he had be in the country in order to apply for asylum.
Escalation
The latest twist in the saga throws up the possibility of Snowden being granted asylum in Germany if he travels there to assist with a parliamentary inquiry. Traditionally those assisting parliamentary enquiries are given legal protection in order to travel to Germany.
However such a move would likely cause an escalation in tensions between the US and Germany, and undo any work which has been accomplished in Washington in recent days.
Snowden's revelations regarding the widespread and indiscriminate collection of huge volumes of data by the NSA, and its UK counterpart GCHQ, have caused huge problems for the US government with countries such as France and Brazil joining Germany in denouncing the mass surveillance policies.
Hero or traitor?
While he is seen by many as a hero, in the US the view of Edward Snowden is very different, with many seeing him as a traitor. The US government has called on Russia to hand him over to face charges including espionage and theft.
Russian president Vladimir Putin rejected the US pleas granting Snowden a one-year visa to stay in the country. However it was on the proviso that Snowden stopped leaking information which harmed the US.
This could potentially make giving evidence at a German inquiry difficult.