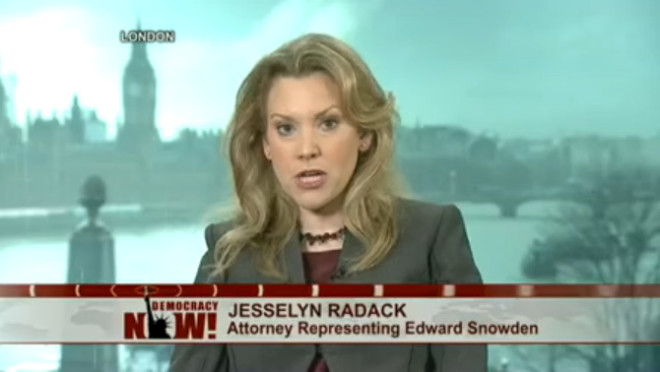 Edward Snowden's lawyer Jesselyn Radack has told online news show Democracy Now! that she is convinced that she is constantly being monitored and that her communications with her clients have to be "encrypted to the hilt".
"I assume I am being monitored. I am encrypted to the hilt - I'm not going to say what encryption techniques I use, but it's a really unfortunate way to do business as a lawyer, to have to pretty much arrange business meetings in person with your client and to have to get into an encrypted environment anytime you want to communicate," she said, speaking live from London.
"In terms of attorney-client relationships, you have to remember that NSA is collecting bulk meta data. They don't have a carve-out for attorneys and clients [or] for communications between doctors and patients [or] accountants and their clients. They have access to any of that information if...they choose to look at it."
Radack, a 43-year-old human rights lawyer who was formerly an ethics advisor to the United States Department of Justice and a whistle-blower in her own right, claims that she was harassed by a London Heathrow Airport Border Force officer when she tried to enter the UK on Saturday.
She says that the customs officer showed very little interest in her passport documents but subjected her to questioning about whistle-blowers Edward Snowden, Bradley Manning and Julian Assange.
When she mentioned that she was planning to attend a meeting at the Ecuadorian Embassy with members of the Sam Adams Associates group, she was asked whether Julian Assange would be in attendance, and about why she had travelled to Russia twice in three months.
Radack says that after the ordeal she was in tears and found the interrogation "bizarre".
Besides requesting that the American Bar Association put out an advisory stating that lawyers should not be intimidated, she has also spoken to Russian TV network RT about her experience, stating that journalists and lawyers shouldn't be harassed simply for doing their jobs.
"They had my passport and asked about my trips to Russia, in particular why I have gone to Russia twice in the last three months. I explained that I had a client there and they wanted to know who that was. It's public information, so I told them," she said.
"In that case I was able to tell them that it was Edward Snowden. But normally unless my client has authorised me to speak, it is [forbidden] for me to talk about that. And that line of questioning again is totally inappropriate and I can think of no other reason for doing it other than to harass and intimidate."
Radack says that that when she saw Snowden in Russia, he was "doing just fine".
"[Edward Snowden] is smart, centred, well-grounded, incredibly articulate, very caring and hilariously funny. He is a good guy and he is doing just fine. I appreciate you are asking about him. He is fine and obviously, his family is in America, and his friends are, but he is living his life in Russia right now and he is grateful for the sanctuary that Russia has provided to him," she said.