The Nokia Lumia 920 and 820 smartphones will be available exclusively through Everything Everywhere's new 4G service, which was rebranded and launched as EE today.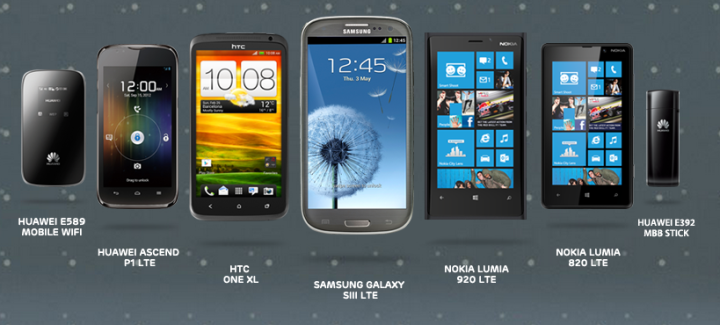 Nokia announced the Windows Phone 8 smartphones at a New York press conference last week but failed to mention when the devices would be available and on what networks, but EE has confirmed they will carry the 4G phones exclusively in the UK at launch.
The Lumia 920 and 820 will be joined by the Samsung Galaxy S3 LTE, the HTC One XL, Huawei Ascend P1 LTE, as well as two mobile broadband dongles from Huawei, the E589 Mobile WiFi and E392 Mobile Broadband stick.
While the new iPhone 5 - which we expect to be announced at Apple's 12 September media event - was not mentioned directly, CEO of EE Olaf Swantee said: "And one more thing, we'll be announcing more devices shortly," which we suspect refers to the new iPhone.
Swantee said at the London launch event, attended by IBTimes UK: "Today we launch a new company, a new network and a new brand for Britain.
"Our plans to revolutionise the UK communications market with a faster network and an exciting new brand for the digital age are built on solid investment and a simple belief that customers deserve better.
"We look forward to connecting the country with superfast mobile speeds in the coming weeks, months and years.
"And it starts today, with the announcement of our new business, our new brand and a new digital infrastructure that our company, our customers and the country can be proud of."
Mayor of London, Boris Johnson turned on EE's 4G network for the first time, but it will only be used by the company's engineers before it becomes available to the public in 16 UK cities by Christmas.
As we wait for the iPhone 5 to break cover, EE is promoting the Samsung Galaxy S3 LTE as its flagship 4G device, flanked by the Lumia 920 LTE and HTC One XL.
EE has a significant head start on the competition, as Vodafone and O2 wait for the telecom regulator Ofcom to auction off 4G frequencies early next year, with the networks not expected to launch their 4G services until the middle of 2013.
Put simply, if you want 4G in the UK, then EE will be your only option for some time to come, and to keep up with the expected demand the network announced it will have more than 700 branded stores - more than any other network.
Jelly Bean incoming
At the London launch event EE revealed that the Galaxy S3 LTE will come with Android 4.1 Jelly Bean out of the box, suggesting that the newest Google operating system is very nearly ready to be rolled out to Samsung's flagship smartphone.
EE also revealed that it will offer an exclusive titanium grey version of the Galaxy S3.
Must read:
EE launches UK's first 4G mobile network