Egypt: Arrest Warrant Issued for Muslim Brotherhood Spiritual Leader Mohamed Badie
Revered figure wanted for incitement to violence after Republican Guard HQ massacre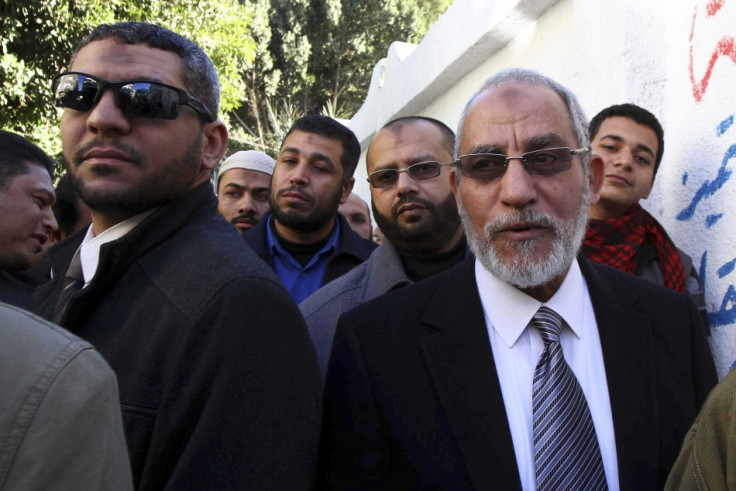 Egypt's general prosecutor has ordered the arrest of the Muslim Brotherhood's spiritual leader Mohamed Badie and nine other members for allegedly inciting violence outside the Republican Guard headquarter where 55 people were killed.
Arrest warrants were issued for Badie's deputy, Mahmoud Ezzat, and party leaders Essam el-Erian and Mohamed el-Beltagi, , according to state news agency Mena.
Thousands of Brotherhood followers have been holding a vigil near a mosque in northeast Cairo demanding the reinstatement of Mohamed Morsi, who was ousted as president by the army.
It was still unclear who provoked the violence outside the Republican Guard HQ, where Morsi was believed to be held in custody. The Brotherhood said its members were staging a peaceful sit-in when they were fired on by police and troops.
The army said that the firing began after a "terrorist group" had tried to storm the barracks. Military spokesman Ahmed Ali claimed that a soldier was killed during the assault when he was shot through the top of the head from above - indicating that snipers were firing from high buildings.
Badie is a revered figure among Brotherhood followers, who swear an oath of absolute obedience to him.
Egypt's interim president Adli Mansour is to offer roles for Muslim Brotherhood leaders in his transitional cabinet, in an attempt to reduce political tensions after the bloodshed.
Ministerial positions will be offered to both the Freedom and Justice Party, the political wing of the Brotherhood, as well as the Salafist Nour Party.
© Copyright IBTimes 2023. All rights reserved.