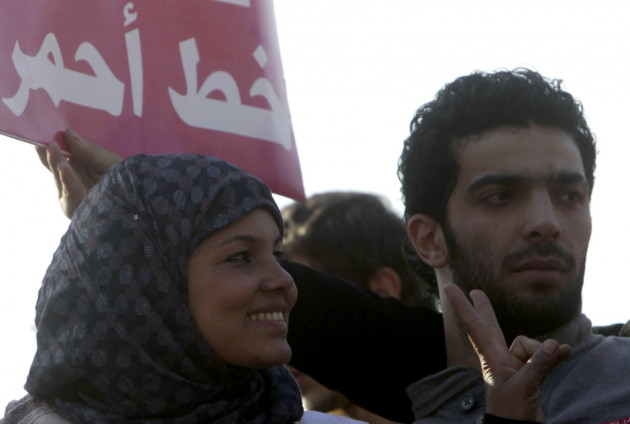 An Egyptian court has stopped military prison authorities carrying out virginity tests on jailed women protesters.
The Cairo administrative court made the decision after a case was brought by protester Samira Ibrahim, who accused the army of forcing her to undertake a virginity test after she was arrested in Tahrir Square as a way of degrading her.
"The court orders that the execution of the procedure of virginity tests on girls inside military prisons be stopped," judge Aly Fekry, head of Cairo administrative court said.
Human rights organisations claim the Egyptian military has used the practice widely as a punishment.
The court's decision was welcomed in the blogosphere. Doctor and popular political blogger Nervana Mahmoud branded the ruling as a "great victory for the Egyptian female".
"It took one brave woman to stand up for her rights," she tweeted. "Respect to Samira Ibrahim. No humiliation from today."
"Victory is not just because virginity checks can't happen again," tweeted Rasha Abdulla, professor of journalism and mass communication at American University of Cairo. "We're celebrating an Egyptian girl who stood up for her right against army!"
Reports of mandatory virginity tests came out after soldiers loyal to the ruling Supreme Council of the Armed Forces broke up a sit-in at Tahrir Square on 9 March. A number of protesters were arrested and the female detainees were also subjected to virginity tests. The case sparked a controversy, with human rights organisations in Egypt and abroad harshly condemning the acts.
The 25-year-old Ibrahim was the only woman to file a lawsuit against the military for the incident. She was taken to Cairo's notorious C28 military prosecution where she was detained along with 20 other women and subjected to the "tests".
"They took us out one by one. When it was my turn, they took me to a bed in a passageway in front of the cell. There were lots of soldiers around and they could see me," Ibrahim told Human Rights Watch.
"I asked if the soldiers could move away and the officer escorting me Tasered me. A woman prison guard in plainclothes stood at my head and then a man in military uniform examined me with his hand for several minutes. It was painful. He took his time. It was clear he was doing it on purpose to humiliate me."
Ibrahim also gave a full account of the incident in a video posted on YouTube.
During the hearing against the practice hundreds of activists gathered before the court buildings holding banners reading "Egypt's women are a red line".