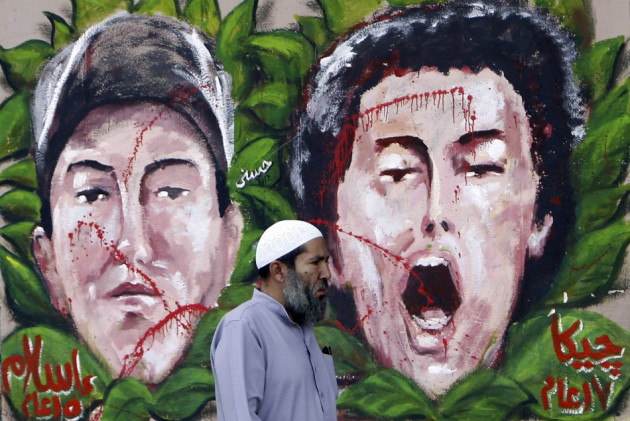 Opposition groups protesting against Egyptian President Mohammed Mursi and his supporters are to hold demonstrations on the same day in close proximity to the capital Cairo further escalating tensions in the country.
Muslim Brotherhood activists and anti-Mursi protesters have hit the streets in recent days. So far there have been minor clashes between the two sides, but the rallies set for later in the day could erupt into an ugly confrontation, it is feared, according to reports.
While Mursi's Brotherhood party has called for two separate "million-man" marches in support of the controversial draft constitution, anti-Mursi protesters are determined to intensify their agitation outside the presidential palace.
Islamist parties which back the Brotherhood have also vowed to join the rally aimed at campaigning for the proposed referendum on the constitutional changes.
"We're currently touring all governorates, holding campaigns to interact with the public," Mohamed Mansour representing the Salafist Nour Party, told the official Mena news agency.
The exact location where the crowds will converge will be decided later depending on the number of people. Brotherhood supporters have ruled out the possibility of marching towards the presidential palace. Mursi's campaigners trooped to the palace during a recent rally which led to the death of eight people.
Anti-Mursi demonstrators are planning to hold a rally just three miles away from their opponents.
"President Mursi is turning into a dictator. His speeches are fragile, not to mention that he has accused the opposition of being foreign agents," said a joint statement released by the protesting parties.
Hamdeen Sabahy, one of the prominent faces of the opposing political bloc National Salvation Front, told Reuters: "The road Mohamed Mursi is taking now does not create the possibility for national consensus. Egypt will continue in this really charged state. It is certain that this constitution is driving us to more political polarisation."
The Egyptian Initiative for Personal Rights is the latest to snub the referendum, scheduled for 15 December, saying the draft "contains no reference to human rights treaties and conventions ratified by Egypt, reflecting ... disdain for these agreements."