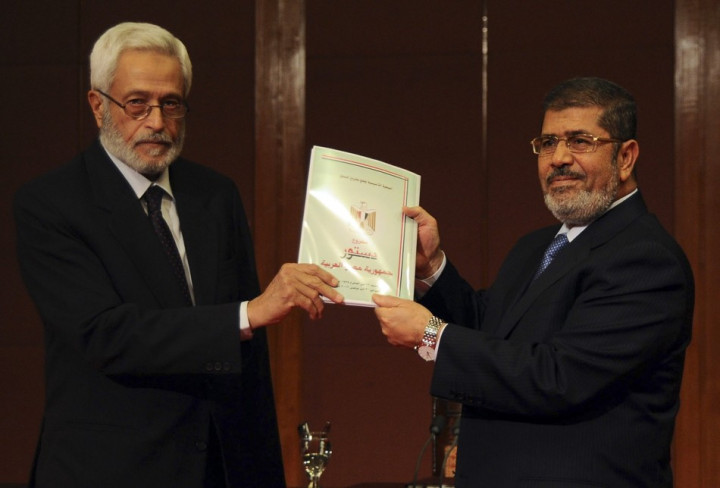 Egyptian President Mohammed Mursi has announced that the new draft constitution will be put to a referendum on December 15.
Supporters of Mursi, who were holding a mass rally near the Cairo University in the capital, celebrated the announcement by setting off fireworks. The rally which was to celebrate what they called a 'day of legitimacy and Sharia' was participated by nearly 200,000 Brotherhood supporters.
"I renew my call for opening a serious national dialogue over the concerns of the nation, with all honesty and impartiality. We must move beyond the period of confrontation and differences, and get on to productive work," said Mursi after receiving a copy of the draft consitution.
The draft constitution which is majorly drawn from the Islamic 'Sharia law' was hastily finalised in the assembly during the 15-hour long voting process.
"It doesn't matter if there are millions in Tahrir, or if all the judges strike, or if the country is, as you claim it is, divided. In the end Egypt, the Egyptian people, will have the chance to make their decision about the constitution in the referendum - yes or no," Mohamed Kamal, a Mursi's supporter at the rally told Ahram Online.
On the other hand, anti-Mursi activists continue to stage their sit-in protest at the iconic Tahrir Square against the president's latest decree and the draft constitution.
The opposition groups have called on for continuation of the mass protest into Sunday. Prominent political figures including the Nobel laureate Mohamed ElBaradei had joined the sit-in.
Opposition activists have accused that the draft is against the spirit of the freedom of religion and free speech.
"In the first revolution, some of the educated and the upper middle income Egyptians did not go down to Tahrir because they did not have serious concerns; because it wouldn't really change their way of living.
However, this time around everyone is taking to the street because if the Islamists have their way they will have impact on the way we live. We will not have the same civil liberties, we will not be able to raise our children the same way, we will not be able to say what we want without being called blasphemous," Hesham Akram, the deputy head of al-Adl party told Daily News Egypt.
Nevertheless, no clashes have been reported so far during the mass demonstration.