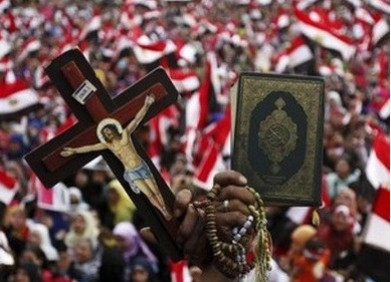 A Coptic Christian priest was shot dead by gunmen in Egypt's lawless Northern Sinai on Saturday 6 July, in what is feared to be the first sectarian attack since the country's president, Mohamed Morsi, was overthrown.
Mina Aboud Sharween was killed in the early afternoon while walking in the Masaeed area in El Arish, west of the Rafah crossing into the Palestinian-administrated Gaza Strip. Five police offers had been killed amid violence in the coastal city the previous day.
The shooting in the city was one of several attacks by suspected extremist insurgents on Saturday, sources said, with checkpoints in al-Mahajer and al-Safaa in Rafah, as well as in Sheikh Zuwaid and al-Kharouba coming under fire throughout the day.
Morsi's Muslim Brotherhood had condemned Coptic Pope Tawadros, the spiritual leader of Egypt's eight million Christians, for giving his blessing to Morsi's removal, and for his decision to attend the armed forces commander General Abdel Fattah al-Sisi's announcement suspending the constitution.
In separate developments, interim president Adly Mansour held talks with the army chief and interior minister following overnight clashes across the country.
At least 30 people were killed and more than 1,000 wounded after Morsi's Muslim Brotherhood movement called protests across the coutnry on what was dubbed a "Friday of Rejection". Protesters clashed with troops after they attempted to march on the military compound where the ousted president is held.
Five Egyptian police officers were gunned down in separate incidents in El Arish, medical sources said, after Islamist gunmen killed a soldier in a separate attack in a nearby town overnight.
Muslim Brotherhood leader Mohammed Badie had addressed a mass rally in Cairo on Friday, calling for troops to defy their generals and restore Morsi to power.
Troops and Morsi supporters also clashed at the other end of the peninsula, in the cities of Suez and Ismailia on the Suez Canal, sources said.
Badie said the national leaders who announced the new government on Wednesday night did not represent their followers, singling out the Grand Iman of Al-Azhar University and the Pope of the Coptic Christian church for condemnation.
"Millions will remain in the squares until we carry our elected president, Mohamed Morsi, on our shoulders," he told the crowd. "We are his soldiers and we defend him with our lives."