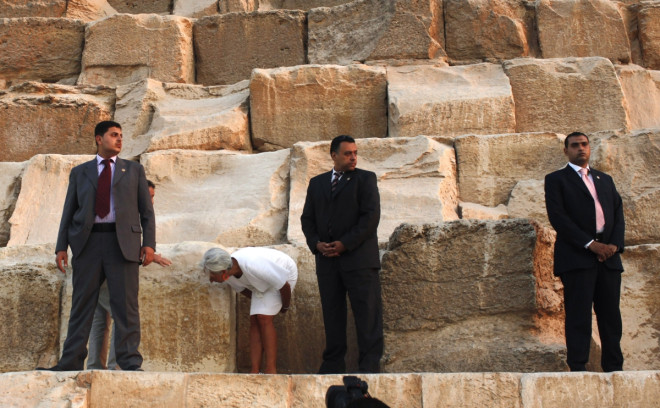 Egypt's spiralling debt to foreign oil companies operating in the country hit $5.7bn at the end of March.
State oil company chief Tarek El Molla told Reuters that debts to foreign oil firms had soared $800m since the previous government figure, despite a number of payments in recent months.
"Arrears to foreign oil firms in Egypt reached $5.7bn by the end of March," the chairman of the Egyptian General Petroleum Corp said.
The amount owed to oil majors including BP and BG Group stood at $4.9bn at the end of 2013, suggesting that Cairo is struggling in its bid to boost investor confidence by paying down its debts.
The Egyptian economy has been hammered by three years of political turmoil and violence since former president Hosni Mubarak was ousted in a 2011 uprising.
The country's first democratically-elected president Mohamed Morsi belonged to the Muslim Brotherhood and struggled to attract international financial backers to Egypt. He was subsequently deposed in a popular military coup and Egypt has since relied on massive aid packages from friendly Gulf states to function. This trying period has been marked by widespread violence and economic stagnation throughout the country.
Cairo paid back $1.5bn of its debts to foreign oil companies at the end of last year as its interim government tried to woo foreign investors to the country's slumbering energy sector.
Egypt is facing energy shortages this summer and the government has warned that blackouts are an inevitability in towns and cities. Blackouts have already affected neighbourhoods throughout the country this month and the electricity ministry is expecting a 7000 Megawatt shortfall this summer.
Energy prices are among the lowest in the world as consumers benefit from a hefty state subsidy that accounts for around 20% of the government's annual budget.
Speaking last week, Egypt's Oil Minister Sherif Ismail said the government hoped the government would pay an additional $1bn to the major oil firms within two months, having said in February that the government hoped to arrange around $3.5bn worth of payments over the next two years.