Egypt Morsi Coup: Muslim Brotherhood Set for Massive Protests [VIDEO]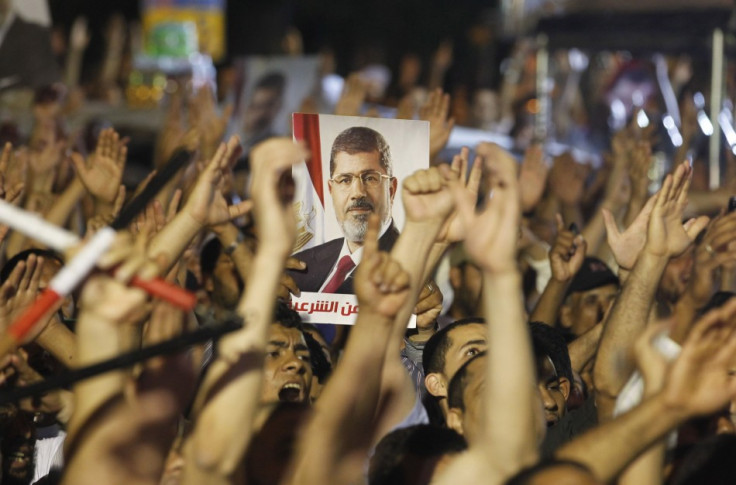 Islamist supporters of ousted president Mohamed Morsi are to launch mass Friday protests against his overthrow by the Egyptian army.
Muslim Brotherhood supporters have called for demonstrations across the country while the military has pledged to allow "peaceful protests".
While scores of Brotherhood leaders including Morsi have been detained by the army, the party said it would refuse to cooperate with the interim administration headed by Adli Mansour.
Brotherhood spokesperson Gehad el-Haddad announced the "full denial of co-operation" with the new regime and declared their "full refusal" and demanded revoking of the military coup.
Fears of violence breaking out during the protests are running, following a number of deaths and injuries in earlier demonstrations seen in the country.
The army said in a statement: "Wisdom, true nationalism and constructive human values that all religions have called for, require us now to avoid taking any exceptional or arbitrary measures against any faction or political current. Peaceful protest and freedom of expression are rights guaranteed to everyone, which Egyptians have earned as one of the most important gains of their glorious revolution."
A military source told Reuters: "We will continue to secure the places of protest with troops, and jets if necessary, to make sure the pro- and anti-Morsi demonstrators don't confront each other. We will let them demonstrate and go where they want."
Mansour, a former judge of Egypt's top court, tried to strike a conciliatory tone shortly after taking over as the interim president.
"The Muslim Brotherhood are part of this people and are invited to participate in building the nation as nobody will be excluded, and if they respond to the invitation, they will be welcomed," he said.
He is also expected to issue a constitutional decree later in the day dissolving the Islamist-led assembly.
© Copyright IBTimes 2023. All rights reserved.