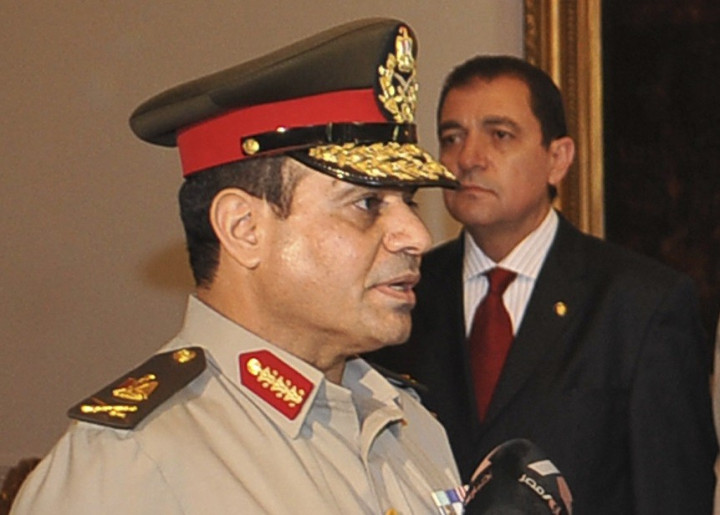 Egypt's deposed president Mohamed Morsi faces a military trial after he was overthrown by army commanders who seized control of the country following the recent mass protests.
Armed forces commander Abdul Fattah al Sissi was said to favour legal measures against the president, who has not been seen in public since he was ousted by the military high command on Wednesday 3 July.
Morsi is understood to be under house arrest in a military compound. The deliberations over his fate came amid confusion over who was in charge in Egypt, where senior judge Adly Mansour had been installed as acting president.
Reports suggest al Sissi has replaced Mansour with the former International Atomic Atomic Energy Agency chief and opposition leader Mohammed El Baradei, but Mansour said the deliberations were ongoing.
Egypt's army is largely paid for by Washington, which must now decide whether a coup has taken place.
The most serious charges being considered relate to the deaths of 100 protesters who were killed in demonstrations during Morsi's year-long term as president. Other charges could include insulting the judiciary and conspiring with foreign elements such as Hamas and Hezbollah.
Morsi escaped from prison during the final days of former president Hosni Mubarak's regime, as governments across the Middle East fell during the "Arab Spring". Evidence has been passed to the prosecutor-general's office requiring members of Morsi's Muslim Brotherhood who escaped prison with him to be re-arrested and questioned.
Dozens of political prisoners escaped with Morsi after militants attacked the Wadi el-Natroun prison in January 2011.
The decision on whether to prosecute Morsi is expected ahead of a meeting of the proposed transitional government, according to the army's 'road map' for a political settlement.
"For now Morsi continues to be held under house arrest, but he will most likely end up serving a prison sentence down the line," said a source close to the army.
Road map
At least 36 people died in violent clashes across the country overnight as hundreds of thousands of Muslim Brotherhood supporters took to the streets of Cairo and other cities in protest at the coup.
Mohamed ElBaradei, 71, the former head of the UN nuclear agency, was reportedly named interim prime minister but last night a presidential spokesman said no formal decision had been taken.
The army continued rounding up Muslim Brotherhood leaders, with the former presidential candidate, Khairat El-Shater the latest to be taken into custody.
The army fears a jihadist confrontation with breakaway factions of the party, which won a majority in general elections a year ago.
Protesters for the Islamist political group carried placards declaring "we will never succumb" and "victory or death".
"We will not leave the streets and if he [Morsi] is not freed we will revert to more aggressive and violent means," said one.
Former President Hosni Mubarak is also being tried, along with six aides including former interior minister Habib al-Adly, for their role in the deaths of more than 800 protesters during the uprising in 2011.
READ:
Egypt Coup: State of Emergency in Suez and Sinai after Islamist Attack on Troops [VIDEO]
Egypt Morsi Coup: Who are Adli Mansour and Abdul Fattah al-Sisi?
Egypt Morsi Coup: Arrest Warrants Issued against 300 Muslim Brotherhood Members [VIDEO]
Egypt Morsi Coup: Adli Mansour Sworn in as Interim President [VIDEO]
Egypt Second Revolution: Military Raid Offices of Al-Jazeera and Close Three pro-Morsi Stations [VIDEO]
Obama Avoids $1.5bn 'Coup' Label for Egypt's Second Revolution [VIDEO]
Ousted Egyptian President Mohamed Morsi Held in Custody by Military [VIDEO]
Egypt in Chaos: Army Tightens Control Over Cairo
Egypt in Chaos: Morsi Allies Denounce Military Coup as Army Deadline Expires [PHOTOS]