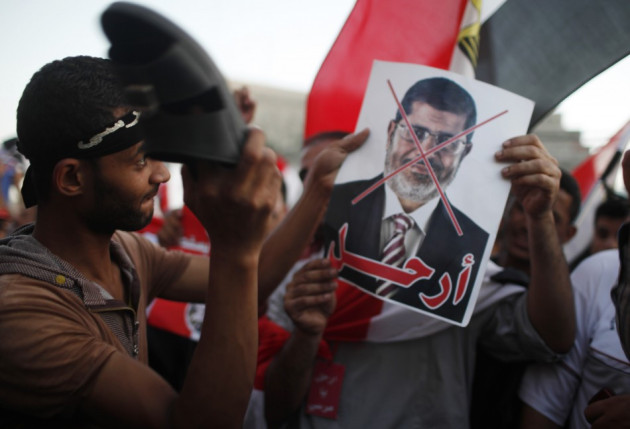 Clashes have broken out in Egypt between President Mohammed Mursi's supporters and opponents as the country is gearing up to face a showdown over the weekend.
Scores of Muslim Brotherhood offices have come under attack across Egypt and at least three people have been reported killed in the skirmishes.
One of the dead includes a US citizen. He was believed to have been stabbed by the protesters as he was attempting to take pictures of the demonstrations. Two other Egyptians are believed to have sustained gunshot wounds and their identities remain unknown.
The Egyptian health ministry said 139 people have been reported injured in the protests.
The US has warned its citizens in Egypt over the situation and urged non-emergency diplomatic staff to leave the country.
The US State Department has "authorised the departure of a limited number of non-emergency employees and family members", and urged other US nationals in Egypt "to remain alert".
Tensions have been running high in Egypt in the run-up to the first anniversary of Mursi's inauguration. Mursi's supporters have been rallying proclaiming his leadership "legitimacy". But anti-Mursi campaigners say he has hijacked the earlier revolution against former dictator Hosni Mubarak.
The Muslim Brotherhood condemned the ongoing protests saying they are run by "thugs".
"Vigilance is required to ensure we do not slide into civil war," warned clerics at Egypt's Al-Azhar institute.
Soldiers have been deployed across Egypt to quell protests-related violence. "Such measures are being taken to avoid the 28 January 2011 scenario," army spokesperson Ahmad Ali told the state-run Mena news agency.
In a show of strength, tens of thousands of anti-Mursi protesters marched on the totemic Tahrir Square in the capital Cairo demanding the president step down.
"I'm not here for Mursi; even if [unsuccessful presidential contender] Hamdeen Sabbahi was president, I'd come to this rally. I'm here to defend democracy. Collapsing the democratic base will lead this country to civil war. As soon as Mursi took power, the opposition began calling him a failure... We're leading the country to hell," a former Air Force colonel told Ahram Online.