Egypt Football Gangs Blame Port Said Disaster on Regime Infiltrators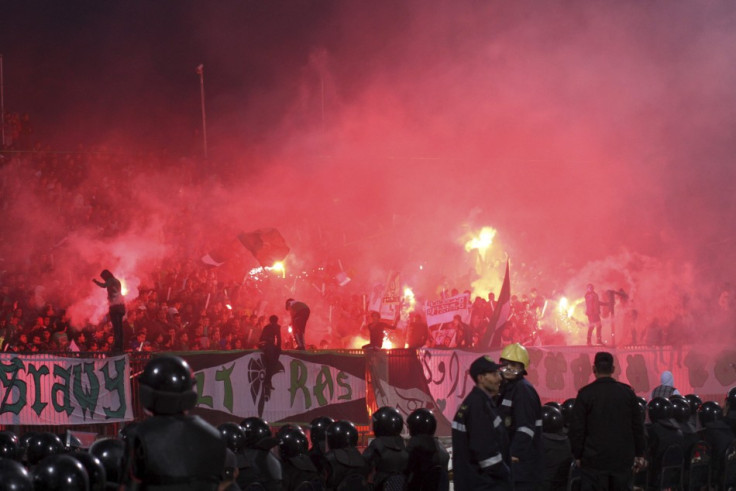 Egypt's worst football tragedy has fuelled growing unrest across the country with growing claims that the riots were caused by remnants of Mubarak's old regime infiltrated groups of fans and stirred up trouble.
At least 74 people died and hundreds more were injured in Port Said after fans invaded the pitch after a match opposing the top-tier clubs Port Said's al-Masry and Cairo's al-Ahly.
Violence erupted after home fans stormed the field and attacked al-Ahly players and fans.
Many of the victims died from direct blows to the head with weapons and others from asphyxiation from being trampled, according to the Health Ministry.
The Masry Ultras Green Eagles, a hardcore group of al-Masry fans, denied they were involved in the football riots.
In a Facebook posting, the group said it was approached by "some thugs" before the match who threatened to kidnap al-Ahly players.
Earlier, trouble had broken outside the ground as eager supporters fought to get tickets but the Masrry Ultras denied taking part in the fighting.
"We shall stop our activities as the Masry Ultras Green Eagles in respect of those who were killed for Egypt," they said and called for a march to protest against the violence and demand an end to military rule.
The rival al-Ahly Ultras, who have become a political force in Egypt involved in clashes with military forces since the uprising began a year ago, turned their fire on Field Marshal Mohamed Hussein Tantawi.
Muslim Brotherhood: 'Invisible Hand' Behind Egypt Football Tragedy
"We want your head, you traitor Tantawi. You could have carved your name in history, but you were arrogant and you believed Egypt and its people could take a step back and forget their revolution," the Ultras Tahrir Square (UTS), wrote on its Facebook page.
"The Marshal and the remnants of the regime send us a clear message. We either have our freedom or they punish us and execute us for participating in a revolution against tyranny," the group added in the statement.
The April 6 Youth Movement (Democratic Front) has also released a statement blaming the Supreme Council of the Armed Forces.
"What happened does not have an explanation expect as part of a plan by the military council and the interior ministry to push the country into chaos and force us to embrace military rule," said Engy Hamdy, a member of the group's political office.
"Is it possible that they succeeded in securing parliamentary elections across nine different governorates but were incapable of securing a football match where clashes were possible?" the movement added in a statement.
The Muslim Brotherhood has accused remnants of Mubarak's old regime of triggering the riot to bolster unrest.
Egypt Football Riot: World's Worst Disasters in the Game [SLIDESHOW]
© Copyright IBTimes 2023. All rights reserved.