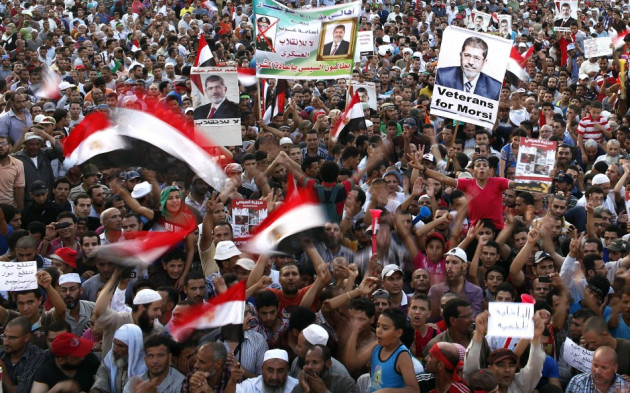 Egyptian security forces are expected to crack down on supporters of deposed president Mohamed Morsi in the capital Cairo, heightening fears of violent clashes.
No official announcement has been made by the interior ministry over the plans for reprisals, after pro-Morsi activists organised sit-in protests across Cairo against the interim administration.
However a security source from the ministry told Egypt's Ahram Online that "all options are on the table" to disperse the mob.
Morsi's Muslim Brotherhood party has called on more protesters to join the Cairo sit-ins, and issued a warning of bloodshed during the demonstrations. Leader Mohamed el-Beltagui told followers: "We will offer a million martyrs."
"If they try to disperse the sit-ins by force, we will just create a new sit-in, or multiple sit-ins. It is the people who make the sit-ins, not the sit-ins that make the cause," Brotherhood spokesperson Gehad el-Haddad added.
Reports suggest that the mobs could be dispersed at any moment, however there have been no signs so far indicating the clearout.
"State security troops will be deployed around the sit-ins by dawn as a start of procedures that will eventually lead to dispersal," another security source told Reuters on condition of anonymity.
Reports suggest the Egyptian security forces are to surround the pro-Morsi camps in order to prevent the crowds outside from pouring in. The government troops will then attempt to strangle the protests by cutting off food and water to the protesters.
At least 250 people have already been killed across Egypt since Morsi's removal on 3 July, with several demonstrations being brutally suppressed by the state security forces.
Further reprisals by the military-backed interim administration could jeopardise the provision of US aid to the Egyptian army.