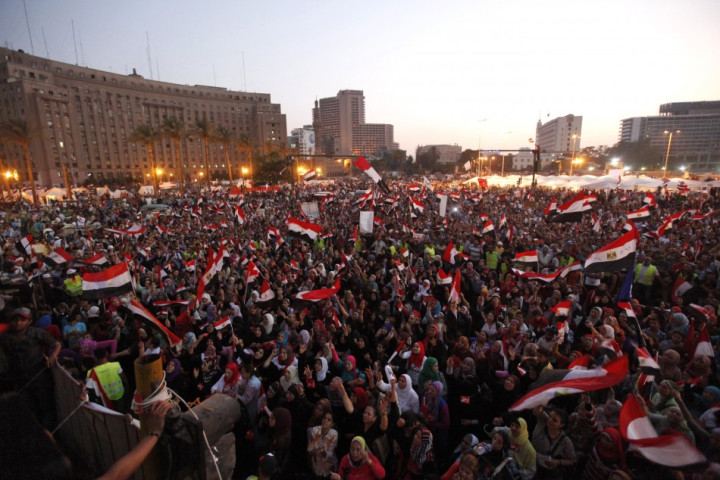 Egypt is on the verge of a major showdown as tens of thousands of protesters are set to rally against President Mohammed Mursi on Sunday 30 June.
Demonstrators are pouring into Cairo's iconic Tahrir Square hours ahead of the planned march later in the day to mark Mursi's first anniversary of leadership.
Protesters in other major Egyptian cities including Suez and Alexandria are also taking to the streets.
The run-up to the mass protests has already claimed an unspecified number of lives, including that of an American who was stabbed to death.
Fierce clashes broke out across Egypt between Mursi's supporters and opponents ahead of the upcoming rally.
The Brotherhood's supporters have staunchly defended Mursi but they are yet to counter the protests. If that happens, it is feared the violence could escalate.
Top Brotherhood officials have assured that their cadres will not indulge in violence over the weekend, but tensions are running high.
Egypt's powerful army has been deployed across the country.
The current wave of protests is being likened to the mass demonstrations which brought down former dictator Hosni Mubarak.
The protesters, who are highly critical of Mursi's policies, say the Muslim Brotherhood has hijacked the earlier revolution. They want him to quit and call for an early election.
The anti-Mursi campaigners claim to have garnered nearly 22 million signatures, close to half of the Egyptian population, urging Mursi's resignation.
"We all feel we're walking on a dead-end road and that the country will collapse. All Egypt must go out tomorrow to say we want to return to the ballot box, and build the foundations of the house we will all live in," said liberal party leader and Nobel laureate Mohamed ElBaradei.
Normal life has been affected with people stocking up food and essentials.
One local, 40-year-old Jiham Mohamed, told Ahram Online: "I bought everything I need, from pasta, to vegetables. I stocked the house so that we can stay at home and watch the revolution on screen."
Mohamed who voted for Mursi during the elections added: "I regret it, I never thought these people will starve and harm the country the way they did. Where is their religion?"
The US, the UK and France have issued warnings to their nationals in Egypt. The UK Foreign Office is advising against travel to all parts of the country.