Thousands of people rallied in Cairo to protest against the exclusion of prominent candidates from Egypt's presidential election and to voice their anger at this week's deadly clashes in Abbasiya Square.
Several thousand Islamists, liberals and left-wing revolutionaries gathered together in the city's central Tahrir Square to demand a free vote in the presidential election, which begins on 23 May, with a run-off scheduled for June.
The liberal and political activist movements include the Coalition of Revolutionary Youth and the April 6th Youth Movement, which played a major role in last year's uprising in Tahrir Square. They were now expected to convene on Abbasiya Square.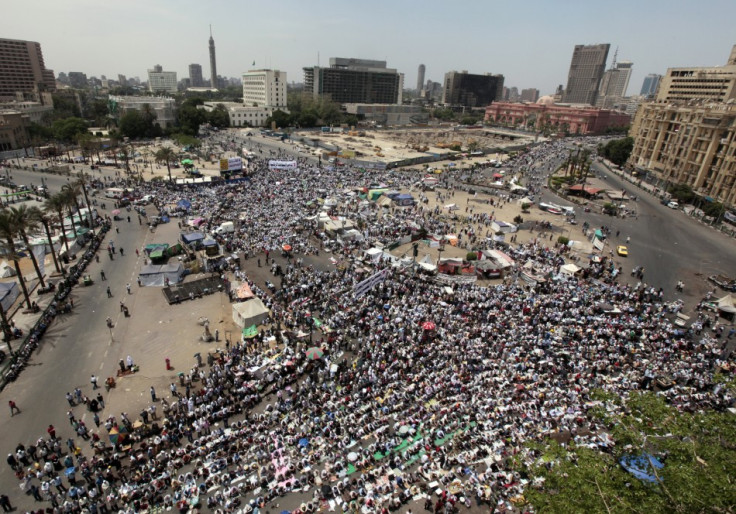 "The march to Abbasiya is beginning now. Join it. Your duties at Tahrir are over," an activist cried.
"Down, down with military rule," shouted another.
According to Egypt's state-run Nile TV, at least three stages have been set up in the square.
The latest protest comes amid rising tensions after leading Islamist candidates in the presidential race suspended their campaigns over the authorities handling of an anti-Scaf (Supreme Council for Armed Forces) protest in Cairo, in which 20 people were killed.
According to activists, "army-sponsored thugs" attacked a camp in Abbasiya Square near the Defence Ministry, where demonstrators were protesting against the disqualification of Salafi leader Hazem Salah Abu-Ismail from May's presidential race.
Protesters said they had seized some of the thugs who attacked their camp overnight with cement-based bombs, stones, Molotov cocktails, birdshot and teargas. They claim to have found army meals on the assailants, which they took as proof of their having a connection to the military.
Ultra-conservative Ismail was excluded from the vote because his mother has US citizenship.
The political wing of the Muslim Brotherhood, the Freedom and Justice Party (FJP), also saw its first choice disqualified. Khairat El-Shater was referred to the country's general prosecutor for insulting the election commission.
Three other candidates were accused of breaking the law by holding meetings on college campuses.
Leading independent candidates Abdel Monein Aboul Fettouh and Amr Moussa, along with Mohamed Mursi, of the Islamist Freedom and Justice Party, and were all cited for violating election campaign laws.
"These infringements by the presidential candidates will be taken very seriously and they will be questioned as soon as possible. They could be fined," Adel Saeed, the general prosecutor's official spokesman, told CNN.