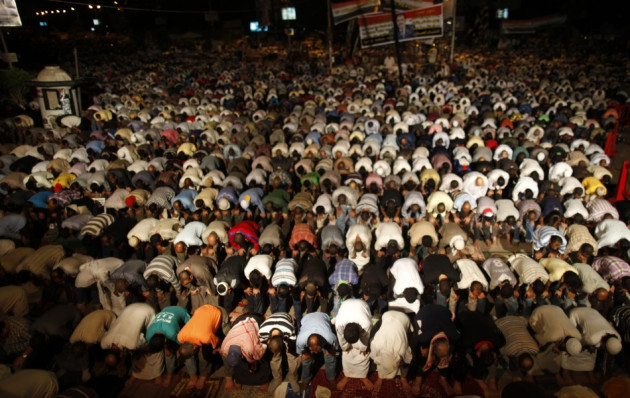 The Tamarod campaign, which helped bring down Egypt's president Mohamed Morsi, has rejected the timetable set out by interim president Adli Mansour to amend the constitution as amounting to a "theft" of the revolution.
Campaigners also sounded a warning about the alliance between the presidency, the army and the ultra-conservative Salafist al-Nour party.
In the aftermath of the shooting dead of 51 Morsi supporters by security forces, Mansour declared that he would appoint two committees to draw up amendments to the Muslim Brotherhood-drafted constitution, which has been criticised as being "too Islamist".
A referendum would be held within four months while elections for a new parliament would be within two months after that - around mid-February 2014. A few weeks after the new parliament was formed, new presidential elections would be organised.
Political analyst Bassem Sabry pointed out, however, that the amendments to the new constitution still showed the influence of the Salafists.
Controversial Article 2, which states that Egypt's legislation should be guided by "the principles of Islamic Sharia", would be merged with in a new Article 1, he claimed. The new article reads:
"The Arab Republic of Egypt is a state whose system is democratic, based on the principle of citizenship; Islam is the religion of the state; Arabic is its official language; and the principles of Islamic sharia - which include its general evidences, its fundamental and jurisprudential rules, and its recognised sources in the doctrines of the people of the Sunna and Jam'aa (ie, Sunnism) - are the main source of legislation."
The Salafists have also managed to keep restrictions on which religions are acceptable by the state. The "three celestial religions" of Christianity, Islam and Judaism have been specified in article 7, which was introduced in the 2012 constitution and represented a significant shift from the 1971 constitution that stated that freedom of belief was absolute.
Former finance minister Samir Radwan has emerged as favourite to become Egypt's interim prime minister after the Salafist Nour party vetoed the appointment of liberal opposition hero Mohammed ElBaradei.