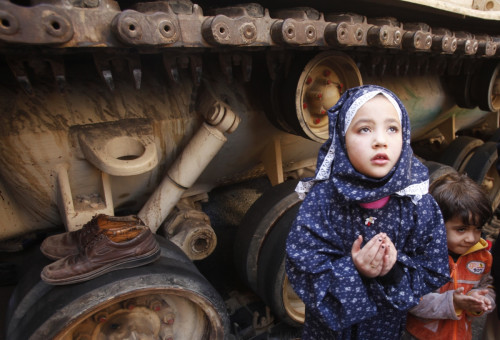 Rival political groups will take to the streets of Cairo on Saturday, marking the third anniversary of President Hosni Mubarak's overthrow.
On Friday, 15 people were killed and 87 injured in clashes between the military-backed government and the Muslim Brotherhood across Egypt, according to the health ministry.
Muhammad Ibrahim, the Egyptian Interior Minister, asked Egyptians not to be afraid to go to events marking the anniversary of the uprising.
On Saturday morning, a bomb was thrown at the wall of the police training academy in the Cairo suburb of Ain Shams, reportedly injuring one person.
An al-Qaida-inspired group based in the Sinai Peninsula has claimed responsibility for a series of coordinated Cairo bombings over the past few days that have killed six people. The Ansar Beit al Maqdis group warned Muslims to stay away from police buildings, saying that these attacks were "only the first drops of rain".
In a statement posted on a website used by Islamic militants, Ansar Beit al Maqdis - meaning Partisans of Jerusalem - said on Saturday that it had detonated the bombs that killed at least six people a day earlier.
The group, which has previously taken responsibility for some of the deadliest bombings in the country, said the devices had been detonated remotely.
"In this context, we repeat our call to our people in Egypt to avoid security and police installations, because we are trying very hard to avoid harming Muslims," the statement said, referring to such places as "enemy headquarters".
Since President Mohammed Morsi was ousted in 2011, the military has waged a crackdown on his supporters with at least 1,000 people killed and thousands of Islamists arrested.
More than a dozen pro-Morsi marches from mosques were planned for Saturday.
The army-backed government says it aims to restore civilian rule, which was overwhelmingly approved in a referendum last week.
However, Egyptian author Ahdaf Soueif says the referendum is all but irrelevant because Egypt has returned to its old ways.
"The constitution is almost a red herring," she told the BBC. "Why go into a whole process of deciding on a constitution, when the institution of the law itself is being eroded? The only thing this constitution does is that it legitimises the very powerful and unquestioned position of the army in Egypt today."
Watch a trailer for The Square, an Oscar-nominated docu-drama about the Egyptian revolution