Egypt Crackdown: Vice-President Mohamed ElBaradei Resigns over Deaths
I cannot bear responsibility for one drop of blood, reformist tells interim government after state of emergency announced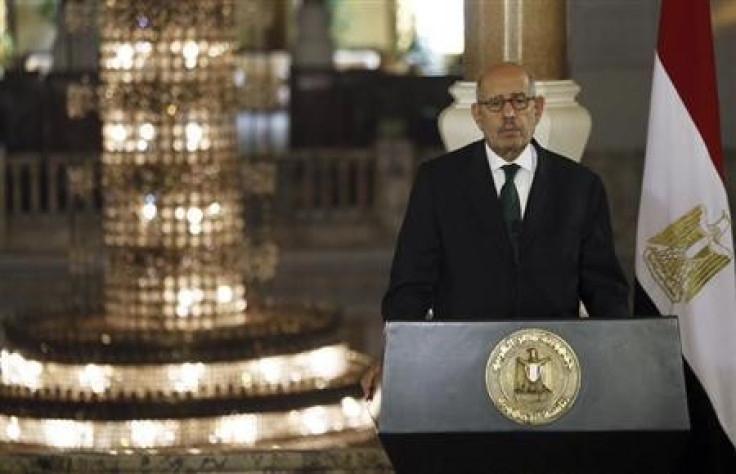 Egypt's vice-president, Mohamed ElBaradei, has quit in protest at the violent crackdown against pro-Morsi protesters in Cairo.
The Nobel Laureate wrote to interim president Adly Mansour, whose government announced a month-long state of emergency across the country after more than 100 people were killed by troops.
"The beneficiaries of what happened today are those who call for violence, terrorism and the most extreme groups," ElBaradei wrote.
"I saw that there were peaceful ways to end this clash, there were proposed and acceptable solutions for beginnings that would take us to a national consensus," he continued.
"It has become difficult for me to continue bearing responsibility for decisions that I do not agree with and whose consequences I fear. I cannot bear the responsibility for one drop of blood."
Violence started after security forces used bulldozers to dismantle camps set up by supporters of ousted Egyptian president Mohamed Morsi, who has been under house arrest for a month since he was toppled in a coup.
Protesters set up camp in Rabaa al-Adawiya demanding his release and reinstatement and had been holding firm until troops used teargas and live rounds to break up the camp.
The international community denounced the spiralling violence.
A spokesman for Washington said: "[We] strongly condemns the use of violence against protesters."
The State Department also criticised the imposition of a state of emergency.
In Whitehall, the foreign secretary William Hague said he was "deeply concerned at the escalating violence".
© Copyright IBTimes 2023. All rights reserved.