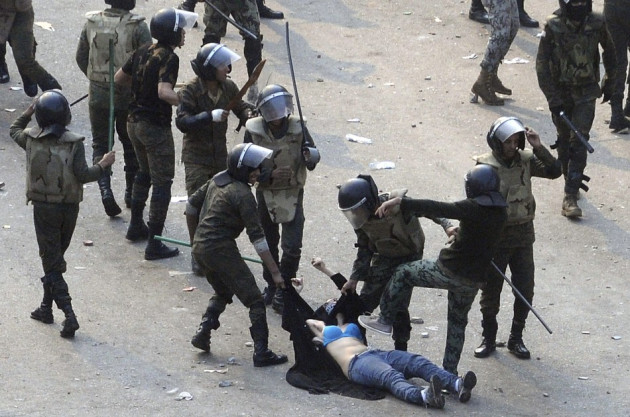 Egyptian police have arrested four activists for putting up posters criticising the ruling military council's heavy-handed tactics against women protesters.
The activists were from the April 6 Youth Movement, which helped trigger the uprising that ousted President Hosni Mubarak in February.
They were detained while hanging up posters that compared images of humiliated Egyptian soldiers after the 1973 Arab-Israeli War to photographs of troops beating a woman in Cairo's Tahrir Square, according to an April 6 member.
The four were being questioned for defamation of the military council, a source at the prosecutor's office said.
Activists and political parties have called on Egyptians to take to the streets on 25 January, the first anniversary of the unrest.
"The continued treatment of political activists in this manner reminds us of the days before the revolution and shows that nothing has changed," the group said. "This kind of behaviour will not stop the movement from continuing to call for a protest on 25 January."
"These are fast steps to neutralise the movements and activists which are supporting the revolution or who are calling for the continuation of the revolution starting from this coming 25 January," said Gamal Eid, head of the Arabic Network for Human Rights Information which is providing legal assistance for the activists.