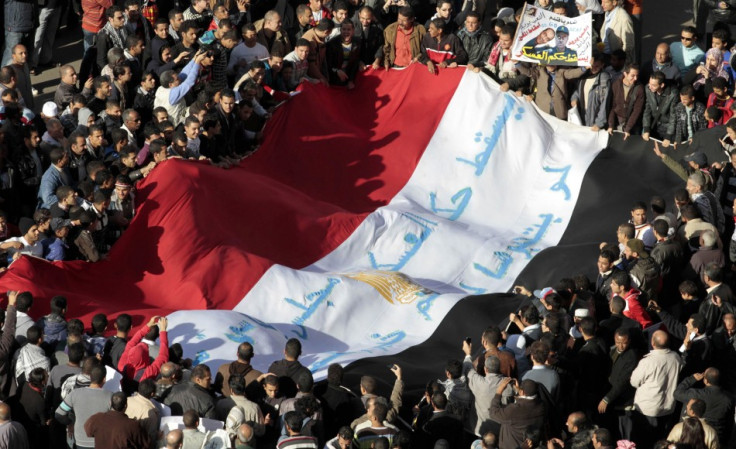 The day that marks the beginning of the Egyptian revolution will be made a national holiday.
Ismail Etman, a lieutenant in the Supreme Council for the Armed Forces (SCAF), said 25 January would be commemorated as the day protesters first took to the streets en masse to bring down Hosni Mubarak's regime.
Military forces will host celebrations in Cairo's Tahrir Square to mark the beginning of the uprising, said Etman.
Events will take place between 25 and 28 January, according to the Egyptian Ahramonline website, and will represent all 27 of the country's administrative divisions, or governorates.
Ceebrations will include musical concerts and displays by the air force and navy.
A football match has been scheduled between Egypt and Tunisia - the two countries where the Arab Spring started and gained momentum - on 10 February. That marks the day that SCAF issued its first communiqué to the public, said Etman.
Since assuming power after the fall of Mubarak, SCAF has been accused of trying to hang on to office and undermining the fledgling democratic process.
Members of the army and security forces have been accused of abusing protesters with beatings, forced virginity tests on imprisoned female protesters, shooting Christian Coptic demonstrators, and arresting bloggers and other activists on trumped-up charges.
In December disturbing images of soldiers beating up a female protester and urinating on activists who had set up a sit-in camp in front of the cabinet's building further angered Egyptians.
Savage Beating of Female Protester: Egypt's Army Declares War On The People
Activists have now accused the military of trying to control the 25 January celebrations.
With tensions between the army and the protesters still high, anti-SCAF demonstrations will also take place.
Among their demands, activists want an end of military trials and a transition from military to civilian power.