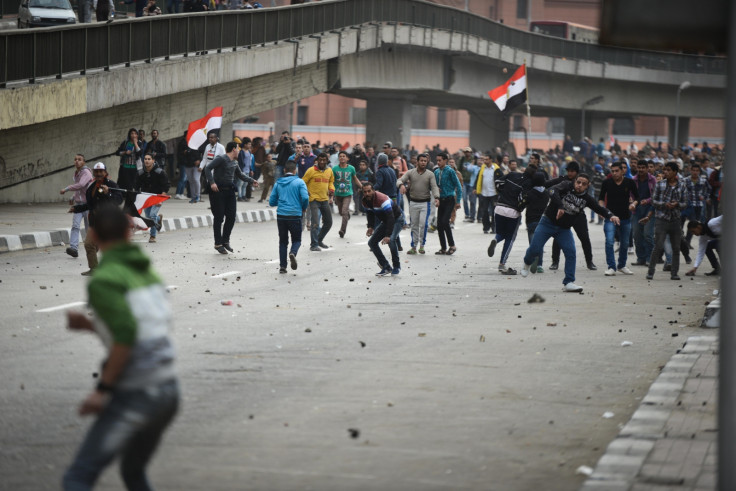 More than five years have passed since Egyptians rose up against deposed dictator Hosni Mubarak, forcing him from office after 18 days of mass anti-government demonstrations. Many Egyptians believed their revolution would bring about real, and lasting, political and economic change, even if they knew it would be a difficult and rocky process.
Today, however, most of the grievances which fuelled the 'January 25' revolution remain as entrenched in Egyptian society as ever. Youth unemployment is high, corruption is endemic, the economy continues to struggle and police brutality is widespread. A radical Islamist insurgency has also grown rapidly, killing hundreds of soldiers and police officers and devastating the country's tourism industry.
Public dissatisfaction with the government of Abdel Fattah el-Sisi, who overthrew the Muslim Brotherhood's Mohammed Morsi in a military coup following mass protests in 2013, seems to be on the rise. "If you come to Cairo, you'll feel the palpable anger, especially among young people", said the prominent journalist and human rights advocate Hossam Bahgat in a recent interview with CNN.
Bahgat is one of a growing number of civil society activists and media figures facing prosecution in Egypt for their work. Many more have already been imprisoned, along with bloggers, students, lawyers, and tens of thousands of supporters and members of the outlawed Muslim Brotherhood.
"This is the worst crackdown on civil society and dissenting voices in Egypt's modern history", said Wael Eskandar, an independent journalist based in Cairo. "It surpasses Mubarak's rule. There is fear everywhere. Saying something as simple as 'the islands belong to Egypt' can land you in jail", he said.
In a controversial move, Egypt recently transferred authority over the Sanafir and Tiran islands to Gulf allies Saudi Arabia, sparking the country's largest non-Islamist demonstrations since the coup against Morsi nearly three years ago. Thousands of Egyptians participated, chanting "Bread, Freedom, the islands are Egyptian", a twist on the famous revolutionary slogan first heard in the 2011 uprising.
The resulting police clampdown saw over a thousand arrests, according to the Front to Defend Egyptian Protesters, and the handing down of prison terms to at least a hundred detainees thus far. Analysts described this as part of a wider 'zero tolerance' policy towards dissent being pursued by Sisi's government.
"Cairo's ruling elite is convinced that against the backdrop of the security situation, dissent is simply a 'luxury' that cannot be afforded, because the aim is to bring down the state entirely", said Dr. H.A. Hellyer, a senior non-resident fellow at the Atlantic Council's Centre for Middle East Policy.
Despite repression, public anger continues to boil over intermittently. In the months leading up to the protests against the transfer of the islands, incidents of police brutality, including the shooting of three people over the price of a cup of tea and the alleged beating of two doctors in a hospital, sparked demonstrations and riots in Cairo.
So far, however, sporadic protests against the government have not yet materialised into a full-blown uprising. Analysts and activists are doubtful that a repeat of the 'January 25' revolution is on the cards, at least for the time being.
"Gratuitous, insane incidents of police violence have produced pockets of popular rage that have to be worrisome, but this is not yet the stuff of broad-based mass mobilisation", said Michael Wahid Hanna, a senior fellow at the Century Foundation. "In the near term revolutionary unrest is very unlikely, but not impossible", he said.
Ahdaf Soueif, a well-known Egyptian writer and political commentator whose nephew, the blogger Alaa Abd el-Fattah, is currently behind bars, said the country's political trajectory was difficult to predict. "The most common scenario is that an uprising will happen and it will be violent and indiscriminating. Another is that the regime will forestall this by reinventing itself with a new face at the top".
Dr. Hellyer, who is the author of an upcoming book on the Egyptian revolution, agreed that civil unrest was possible, "because of the factors that remain unaddressed in terms of the economic situation and fundamental rights". However, he also warned that, "if it does happen, it's likely to be quite chaotic and unsettling, in ways that will be very different from 2011".
Part of what made the 2011 revolution successful was cooperation between groups with otherwise very different political beliefs, including leftists, liberals and conservative Islamists. Today, Egypt's polarised society seems unlikely to come together in unison against the regime.
"Politics in Egypt is very fragmented. There is an iron division between Islamists and non-Islamists that is nowhere near being breached", said Hanna, from the Century Foundation. Egypt's revolutionary camp and supporters of the Muslim Brotherhood may have a shared opponent in Sisi's government, but political disagreements and mistrust clearly run deep.
Egyptians are also exhausted after five years of instability, violence and economic hardship. "People are worn down", said Eskandar, who, like the others, does not foresee a repeat of the 'January 25' uprising.
"Egyptians at large aren't looking for a repeat of that kind of tumultuous time - especially when the economy is already doing quite badly", agreed Dr. Hellyer. "The uprising in 2011 came with certain repercussions - necessary ones, but also very costly in terms of the short-term economic impact", he said.
Another important deterrent is fear. The civil wars that have swept the Arab world over the last five years, causing state collapse and the rise of violent extremist groups like the Islamic State, discourage potentially destabilising clamour for change.
Egyptians have also seen first-hand that their government is willing to use extreme levels of force against civilian demonstrators, with reports of more than two thousand people being killed in protests and clashes during the first year after Morsi's overthrow. "One of the unhappy tales here is that sometimes repression works", said Hanna.
Revolutionary unrest of the type seen in 2011 therefore seems a long way off. "Short of major unforeseen shocks the country is probably on a kind of grinding process of decay and decline", he said. "It will take a while before you have enough constituencies that are energised and courageous enough to pose a serious challenge to the regime."
---
Daniel Wickham is a writer and activist with an interest in human rights and the politics of the Middle East and North Africa.
---