As Muslims around the world gear up for Eid al-Fitr, a so-called "Ramadan rush" of wealthy Middle Eastern shoppers into Britain is expected to rival Christmas in terms of spending.
The holy month of fasting, which culminates with Eid al-Fitr this weekend (18-19 July), has already seen a glut of shoppers from Qatar, United Arab Emirates, Saudi Arabia and Kuwait pour into London's West End.
However, retail experts expect Middle Eastern shoppers to treble their spending at the capital's department stores over the coming weeks, as cash-rich Arabs go on the hunt for luxury goods.
Dave Hobday, UK managing director at Worldpay, said: "We expect spending by Middle Eastern shoppers to break records this year, with turnover as high as Christmas for some luxury stores. This is about far more than just premium retail though. From bargains in Bicester to boutiques on Bond Street, retailers across the UK are wise to the opportunity that Eid offers."
British retailers are expected to cash in on the Muslim holy month to the tune of hundreds of millions, making Eid al-Fitr one of the most important events in the UK shopping calendar.
As well as spending big on speciality and imported food throughout the month to break their fasts, Muslims also splash out on Eid al-Fitr gifts to give to loved ones.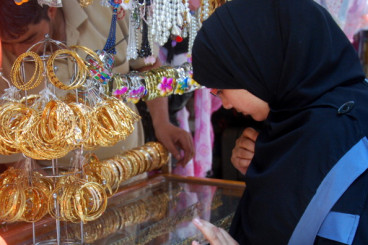 Data from Worldpay shows that high street stores in London saw turnover rocket 368% in the month after Eid al-Fitr last year.
According to research from Global Blue, Qataris are expected to be the biggest Middle Eastern spenders, with their average transaction coming in at £1,432 last year, closely followed by UAE shoppers on £1,120.
Department stores are by far the largest beneficiaries of the Eid al-Fitr shopping spree, accounting for nearly 59% of all spending by Middle Eastern visitors.
Gordon Clark, UK manager at Global Blue, said: "Last year, spend by Arabic shoppers was up 43% for the period and, as retailers and hotels improve their services to accommodate them by bringing in Arabic-speaking staff and learning their cultures' customs, the UK is becoming an increasingly appealing shopping destination for them. We expect spending growth to remain strong."
While London remains the number one draw for post-Ramadan shopping, luxury retail hub Bicester Village has also emerged as a popular jaunt, with sales from Middle Eastern shoppers rising by 276% compared to the seasonal average.
---