Eid al-Fitr is the celebration to mark the end of Ramadan and as with almost every event in your life these days, there are a range of apps developed promising to enhance your experience.
The three-day festival, commonly abbreviated to Eid, marks the end of the month-long fasting during Ramadan, which began on 18 June this year.
This year, Eid al-Fitr is expected to be on Friday, 17 July in the United Kingdom, depending on the sighting of the new moon.
Beginning with morning prayer, Eid will see Muslims who have been fasting for the last month feasting and celebrating with family and friends as well as exchanging gifts.
So to help you celebrate, here are a selection of apps for your iPhone, iPad, Android smartphones and tablets:
Eid Greetings (iTunes)
This iOS app offers you an easy way to send messages to your family and friends with exclusively designed Eid cards in categories including Islamic, family, friends, company, funny and Arabic.
You can write a customised message on the cards and share them via email, Facebook, Twitter and Google+.
Eid Mubarak SMS 2015 (Google Play)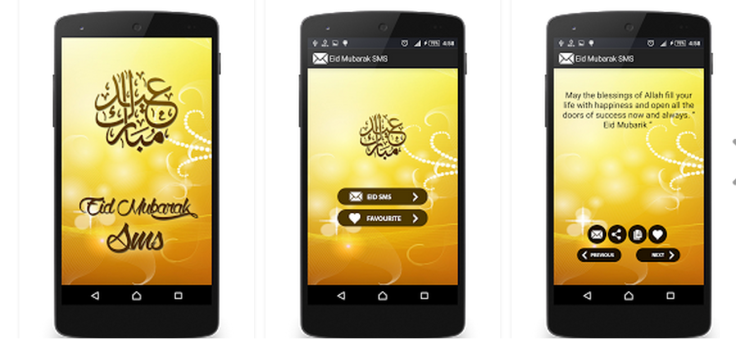 If you are too busy to send cards but still want to mark the end of Ramadan then this app could be perfect for you. Eid Mubarak SMS 2015 features "more than 100 nice and meaningful" pre-written messages you can send to family and friends. Messages are in Arabic and English and can be shared via text, email, Facebook, Twitter or WhatsApp.
Eid Mehndi (Google Play)
As part of the celebration of Eid, many people apply the iconic Mehndi or henna tattoos on their hands and arms and this app offers some design suggestions for those looking for inspiration.
The developers of the app promise "Eid Mehndi designs from very famous Mehndi artists...from heavy bridal mend to lite modern Mehndi".
iQuran Lite (iTunes)
While feasting and celebration is at the centre of Eid, prayer is also a central aspect of the festival and so this app is an ideal companion.
It gives you the complete Quran in the uthmani font along with colour-coded Tajweed (pronunciation), verse-by-verse translation and recitation.
Eid Live Wallpaper (Google Play)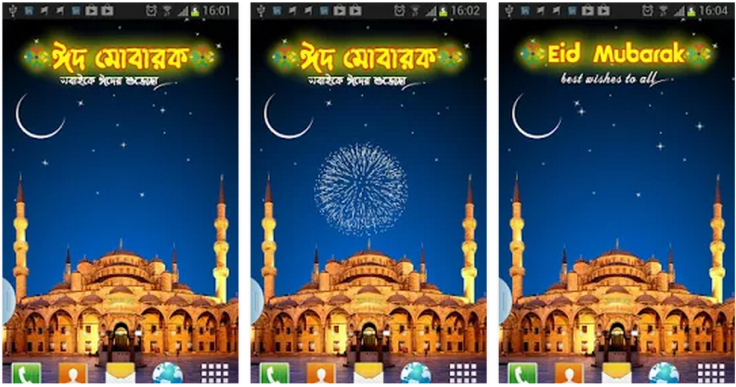 If you want to trick out your smartphone to celebrate the festival this weekend, then this is the app for you. The Eid Live Wallpaper app, which is free for Android users, promises to "enhance the beauty of your smartphone."
Eid (Google Play)
Simply called Eid, this app promises to guide you on the most important aspects of the festival, including the history of the celebration as well as details on how to offer Eid prayer, and a guide to rituals and traditions.
Eid Recipes (Google Play)
One of the most important aspects of the Eid festival is food, and this app gives you recipes for Eid dishes from a range of different chefs. It promises recipes in a variety of categories including for drinks, desserts, starters, curries and BBQ dishes.
The app is free, and once downloaded doesn't even require you to have an internet connection as all the recipes are stored locally on your phone or tablet.