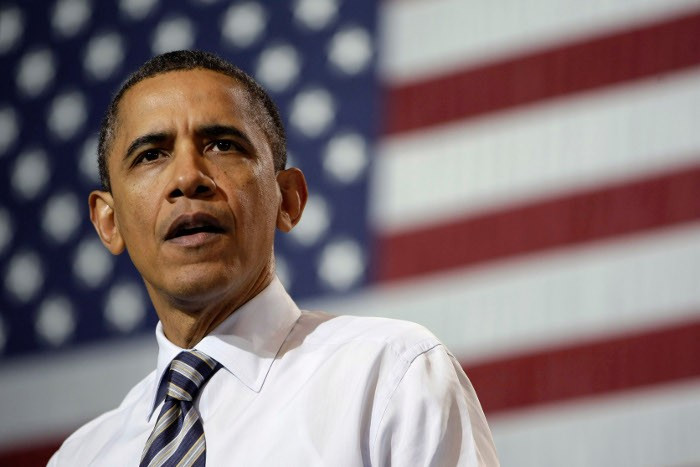 President Barack Obama's re-election prospects have been given a timely boost with weekly jobless benefit claimant figures falling to a four-year low.
The figures - more evidence of a slow recovery in the US economy - may have dealt a serious blow to Republican candidate Mitt Romney's hopes of securing the GOP nomination.
Claims for unemployment benefits showed a surprise drop of 13,000 to 348,000.
The figures came after upbeat reports on housing and manufacturing in the US also beat expert's predictions. The Bloomberg Consumer Comfort Index also climbed for a fourth straight week to reach the highest level in a year, with jobless Americans now at their most optimistic since April 2008.
In an election where the economy will be the key battleground, reports that the number of people claiming unemployment support have dropped by 13,000 to 348,000 could not have come at a worse time for Romney, who is struggling to contain a renewed surge from his rival Rick Santorum.
Romney, who has based his campaign on his ability to turn around an ailing economy, dropped two points in overnight polls to trail Santorum by 1 percent, ahead of primaries in Arizona and Michigan (Romney's home state) on 28 February.
Santorum, the former Pennsylvania senator, was back in the running on the back of a remarkable hat-trick of victories in Missouri, Minnesota and Colorado.
He is now expected to take Michigan, with one poll giving him a commanding 15-point lead.
"Political independents have a markedly better view of the prospects for better times than they did just a few months ago, and Obama is running much more strongly among independents than he was a few months ago," Andrew Kohut, president of the nonpartisan Pew Research Center in Washington, told Business Week.
"Reports such as those out yesterday will only reinforce this notion that things are getting better."
Economic confidence among independents, a voter group targeted heavily by Romney, reached a four-year high earlier this month, the Bloomberg Comfort Index showed. Obama now holds an eight-point lead over Romney in a hypothetical general election, with 51 percent of independents backing the president, up from 40 percent a month ago, according to research from Pew Research.
"People are starting to get a sense that the economy is on the rebound," Obama told campaign donors in Corona Del Mar, California.
A Pew poll revealed that public assessments of Obama's economic policies were improving, despite many Americans remaining dissatisfied with the state of the job market. Asked about the impact of Obama's policies, 33 percent said they had made the economy better, 35 percent said worse and 25 percent said they had had no effect. The poll was conducted among 1,000 adults between 8 and 12 February.
Throughout a tumultuous Republican campaign for presidential nominee there has been a grudging acceptance among the party's conservative base that Romney was the one candidate with the potential to win the presidency.
The belief was based primarily on Romney's strong economic record, first in the private sector and then as governor.
Romney's candidacy remains strong as long as unemployment remains high, but the stronger the economy becomes during the primary period, the harder it will become for him to sew up the nomination quickly and avoid the nomination battle dragging on into the summer.
Independent economic analysts still see Obama facing significant headwinds, however, and say the election is too close to call.
"We still see unemployment remaining above 8 percent this year, although if these numbers continue we might have to revise those forecasts," Paul Ashworth, chief US economist at Capital Economics, told the Telegraph.
"These numbers are encouraging, but this year we have got a lot of fiscal tightening and fiscal stimulus is beginning to fade. There is not a lot of strength in the domestic economy, the housing market remains very weak and the global backdrop [in Europe and the Middle East] is worrying."