The main TV debate of Britain's general election campaign has yielded no clear winner, with three opinion polls producing four different winners. However, Scottish National Party leader Nicola Sturgeon and Nigel Farage, the head of the United Kingdom Independence Party (Ukip), may have benefited the most.
The seven-person debate, on Thursday, 2 April, was staged less than six weeks before the knife-edge election on 7 May.
Before the debate polls consistently suggested David Cameron's Conservatives and Ed Miliband's opposition Labour Party are neck-and-neck with neither on track to win a majority.
The results of three snap opinion polls released immediately after the debate underscored why the election is being widely described as the closest and most unpredictable since the 1970s, with voters naming no fewer than four winners.
A YouGov poll said Sturgeon had won, an ICM/Guardian poll said Labour's Miliband had narrowly triumphed, and a ComRes/ITV poll said Cameron, Miliband and Farage had come joint first.
No 'killer blow'
None of the leaders managed to deliver a "killer line" that would set them apart from the other participants.
"There was clearly no knock-out blow," said Peter Kellner of pollster YouGov.
Leader
Comres/ITV
YouGov
ICM/Guardian
Ed Miliband,
Labour
21%
15%
25%
David Cameron,
Conservatives
21%
18%
24%
Nigel Farage,
Ukip
21%
20%
19%
Nicola Sturgeon,
SNP
20%
28%
17%
Nick Clegg,
LibDems
9%
10%
9%
Natalie Bennett,
Green Party
5%
5%
3%
Leanne Wood,
Plaid Cymru
2%
4%
2%
Snap poll results from the general election leaders\' debate
Jonny Tudor, 17, who asked the first question of the night, told Reuters afterwards: "I don't think there was a clear winner, each leader performed at different levels. Some performed well in answer to certain questions, other performed well on different subjects, but there was no definitive winner."
But in a result that will calm Conservative nerves, a ComRes/ITV poll showed 40% of voters saw Cameron was the most capable of leading Britain, compared to 28% who named Miliband.
Cameron faced off against six political rivals in what was the first and only full TV debate of a campaign that has yet to stir voters, many of whom say they feel jaded despite a rising economy.
The debate, held in a former pie factory near the northern city of Manchester, ranged across the economy, the health service and immigration in front of a quiet studio audience.
It put leaders of traditionally minority parties – Ukip's Farage, the Greens' Natalie Bennett, and Plaid Cymru leader Leanne Wood – on an equal footing with the Conservatives and Labour.
SNP leader Sturgeon and Nick Clegg, the leader of the LibDems completed the lineup.
No direct Cameron-Miliband debate
Cameron came off badly from Britain's first TV debates in 2010. Over the course of three such debates, strong performances by Clegg were credited with helping deprive the Conservatives of an outright victory.
This time, Cameron has resisted pressure to take part in a head-to-head debate with Labour leader Miliband.
He has also refused to take part in a "challengers' debate", which will feature five parties which are outside the current coalition government.
Last week Cameron and Miliband were subjected seperate questioning from Jeremy Paxman on TV.
A snap opinion poll afterwards showed Cameron had performed better, but later polls showed Miliband had exceeded expectations.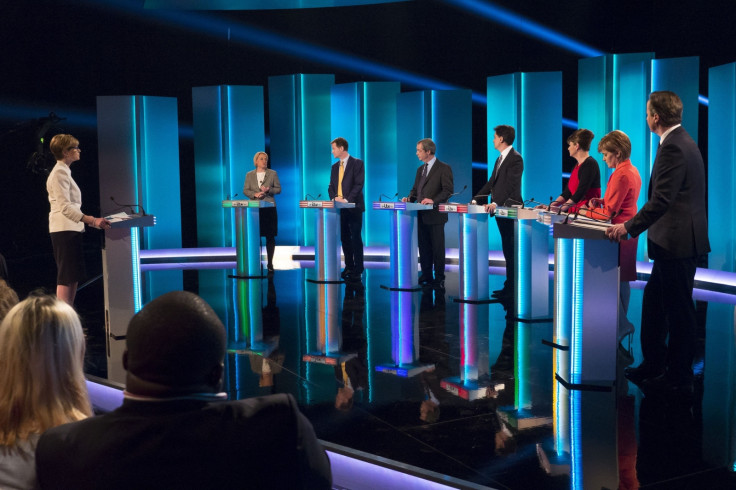 Farage's 'shame'
Farage offered the most controversial remarks of the night, stating that immigrants who have HIV should not be allowed to receive antiviral drugs from the NHS.
Wood hit out at Farage over the comment, saying: "This kind of scaremongering rhetoric is dangerous. It divides communities and it creates stigma to people who are ill and I think you should be ashamed of yourself."
The debate also hotted up when a heckler, Victoria Prosser, attacked David Cameron over the issue of homeless veterans.
The 33-year-old was reportedly removed from the ITV studio in Salford after the outburst. She later told journalists that she wanted to question the "1% at the top" of British society, "who are not working in our best interests".