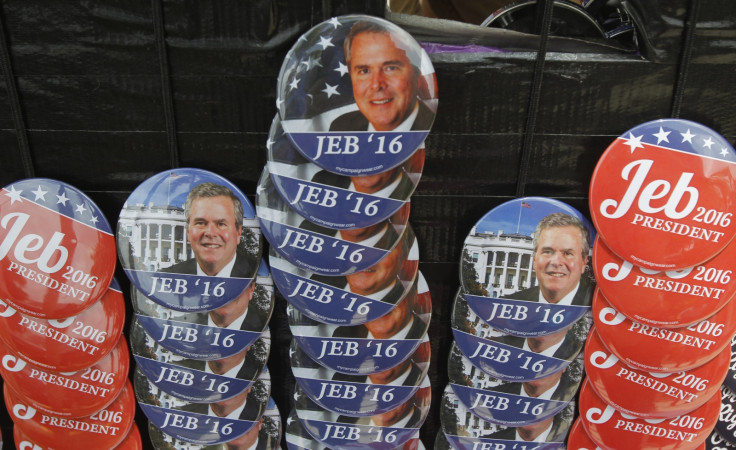 First it was Donald Trump, now it is Jeb Bush's turn to slam Asians as they continue their campaign to win the Republican ticket for the 2016 US Presidential elections.
Republican presidential candidate Jeb Bush, in explaining his position on birthright citizenship has suggested that his use of the term "anchor babies" was not directed at Hispanics but rather at Asians.
Trump on the other hand, is blaming China for the plummeting stock market, accusing it of "bringing us down." He said on twitter: "Markets are crashing - all caused by poor planning and allowing China and Asia to dictate the agenda."
Back to Bush, the Time says he was referring to Asians committing 'fraud' by coming into the country to have children and to take advantage of the US birthright citizenship.
"What I was talking about was the specific case of fraud being committed. Frankly it's more related to Asian people [who are] coming into our country, having children, and ... taking advantage of a noble concept, which is birthright citizenship," he told reporters at an immigration focused press conference in McAllen, Texas.
The Time says that the former Florida governor has long been a champion of immigration reform and has touted his own multicultural family as a strength of his candidacy.
It noted that his use of the phrase 'anchor babies' was a potential liability in his quest to woo Hispanic voters and redirecting his focus towards Asians may be equally damaging as the group sided with current US President Barack Obama in the 2012 presidential campaign in roughly the same numbers as the Latinos.
Bush has said that criticism over the use of the phrase was politically driven. "My background, my life, the fact that I'm immersed in the immigrant experience - this is ludicrous for the Clinton campaign and others to suggest that somehow I'm using a derogatory term.
"I support the 14th amendment. Nothing I've said should be viewed as derogatory toward immigrants at all," he said, shrugging of the backlash over his use of the phrase as a symptom of a system in which political correctness has run amok.
Democrat presidential hopeful Hilary Clinton took the opportunity to hit back at Bush, by tweeting: "They're called babies."
But Bush was not the only one to use the phrase with CNN reporting that Trump had said that anchor babies are not American citizens.
According to AFP, Trump has called for possibly scrapping the law, claiming that birthright citizenship boosts illegal immigration. Last week, he claimed 300,000 babies were born last year in the US from undocumented immigrants.
Chinese parents top list in giving birth in the US
That is however lower than the 340,000 babies born in 2008 to unauthorised immigrant babies - about 8% of all babies born that year, according to a 2010 study by Pew Research Centre.
AFP noted that last March, US investigators raided dozens of Los Angeles locations suspected of offering 'maternity tourism' services to pregnant Chinese women wishing to secure US citizenship for their unborn babies.
It said some mothers paid over $50,000 (£31,727, €43,239) for packages to allow them to give birth in the US, according to the Immigration and Customs Enforcement agency.
The Vox said that there are pregnant women who come to the US to give birth to their children on US soil, and that it was popular among parents-to-be from China. It said according to an industry estimate, in 2014, 60,000 children were born in the US to Chinese parents who were visiting tourists.
It noted that these Chinese parents do not intend to stay in the US after their children are born. They just want their US-born but China-raised children to have the option of going to college in the US without having to get a student visa or even relocating to the US if they wish to when they are older.
It noted that the the use of 'anchor babies' usually refers to unauthorised immigrant parents who use their children as 'anchors' to remain in the US as the children will be eligible for some welfare benefits and eventually, when they turn 21, sponsor their parents for green cards.