Millions of Americans are lining up at polling stations to cast their ballot in what seems to be one of the closest elections in the US history. However a high level of abstention is expected.
On Election Day Republican candidate Mitt Romney voted in his home state of Massachusetts, accompanied by his wife Ann.
US President Barack Obama and the First Lady Michelle both took advantage of the early voting regulations and cast their ballot on October 25th.
But many Americans will ignore the democratic process as it is estimated that about 50 million US citizens will not vote - 5 million more than in 2008, the Washington Post reported - approximately one-third of the total US electorate.
A survey by the US Census Bureau provided an overview of the main reasons why US citizens either did not registered or registered to then not vote in 2008.
Four years ago the majority of non-voters refused to cast their ballot for lack of interest or because it disliked both presidential candidates - 51.6 per cent of those who didn't register and 26,4 per cent of those who did register but didn't vote anyways.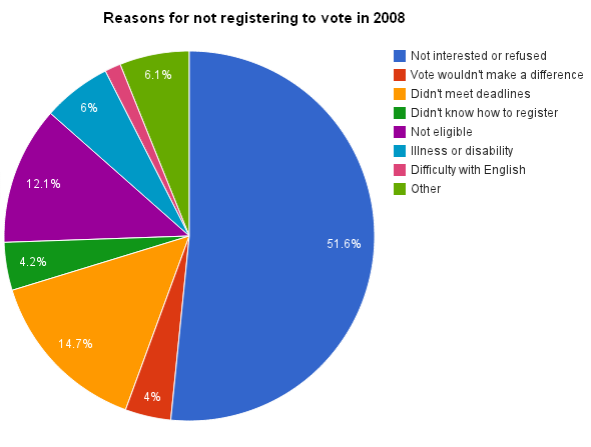 This year statistics are likely to record an increase in people not voting because of inconvenient polling locations, especially in the Sandy-Affected East Coast.
However extraordinary measures have been taken in the states of New York and New Jersey to facilitate voting for citizens that are facing the hardships caused by the hurricane.
In New York, citizens have been allowed to vote at any polling station by presenting an affidavit, Governor Andrew Cuomo said.
Fax and email voting have been allowed in New Jersey instead.
"We want everyone to vote. Just because you are displaced doesn't mean you should be disenfranchised," Cuomo said.