France's 2012 presidential election is set to start in just a few days.
Here the IBTimes UK looks at the ten candidates that will battle for the Elysee Palace in the two-round election, to be held on 22 April and 6 May.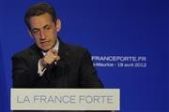 Nicolas Sarkozy, UMP (Union for a Popular Movement) candidate
With a background in law, Nicolas Sarkozy turned rapidly to politics and became mayor of Neuilly and an MP.
He moved up through various government positions before being elected president in 2007, beating Socialist party candidate Segolene Royal.
Sarkozy's first years in office saw him build an image of a dynamic but conservative leader who was often pictured with celebrity friends and multimillionaires.
Sarkozy's style of leadership has been criticised by both left and the right. The "bling bling" president, as voters nicknamed him, was once described by former head of state Jaques Chirac as being "irritable, rash, overconfident and allowing for no doubt, least of all regarding himself".
His often radical social policiesm have also caused upset. He angered the French when he raised the legal retirement age from 60 to 62 in 2010.
In the last few months Sarkozy has worked hard to build a more approachable image and enlisted the help of wife and former supermodel Carla Bruni-Sarkozy.
He said in February: "I won't be the candidate of a small elite against the people."
With France still battling an economic crisis, he took a blow when the country's credit rating was downgraded from AAA to AA+ in January.
He faced another backlash recently after claiming on national TV that he had visited the stricken Fukushima nuclear plant in Japan after the devastating tsunami in 2011 but his claim was revealed as untrue when evidence emerged that he had remained in Tokyo thoughout his Japanese trip.
Policies
Reduce annual legal immigration to France from 180,000 to 100,000
Zero budget deficit in 2016 and 2 percent GDP growth
€125bn of savings by end of 2016
"Now, I know the job."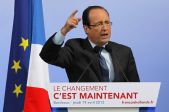 Francois Hollande PS (Socialist party)
A conscientious student who graduated from the ENA administration school, Francois Hollande's passion for politics goes back to his university days.
He joined the Socialist party in 1979 and worked in a junior position as the economic adviser of former president Francois Mitterrand.
Hollande succeeded Lionel Jospin as leader of the party and remained at the post for more than 10 years.
Former IMF chief Dominique Strauss-Kahn was originally seen as the most likely PS candidate but accusations of sexual assault derailed his political ambitions.
Despite critics saying Hollande was a "poor replacement choice", he was elected as the Socialist candidate.
In contrast to Nicolas Sarkozy's ostentatious style, Hollande has often been criticised for lacking dynamism and charisma.
During the presidential campaign Hollande has forged the image of a determined leader who has refused to mention Sarkozy by name throughout the campaign.
Policies
Scrap Sarkozy's 1.2 percent VAT increase
Make those earning €1m or above pay 75 percent in income tax
Curb bonuses, ban "toxic" financial products, ban French banks from operating in tax havens.
Allow same-sex marriage and adoption.
Ban the word "race" in the French constitution.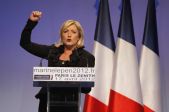 Marine Le Pen, FN (National Front)
Marine Le Pen studied law at Pantheon-Assas Paris II University and worked as a barrister from 1992-98. She was elected councillor in Pas-de-Calais in 1998, has been an MEP since 2009 and the leader of National Front since 2011.
The daughter of former National Front leader Jean-Marie Le Pen, she has revitiilised the far-right party by revamping its image.
She has dismissed Nazism as "an abomination" and condemned anti-Semitism but has taken advantage of dissatisfaction over globalisation and the European debt crisis. She opened her campaign by focusing on the need for protectionist and anti-globalisation economic policies.
Other themes in her campaign, however, remained close to her father's ideology as she has repeatedly attacked the state's immigration policy and denounced what she describes as the"Islamisation" of France.
She wants to drastically reduce the number of immigrants to France to 10,000 a year. "They are advancing in the neighbourhoods. They are putting pressure on the population. They are recruiting young boys" to train for jihad, she has claimed.
Her campaign was given a boost by the Mohammed Merah killings in Toulouse in March 2011
She maintains that not all Muslims in France "are terrorists" but regards halal meat as a threat and has turned that into a campaign issue.
Replying to critics who see her party's far-right ideology as dangerous she says that FN ideology is born of a love of France, not a hatred of everyone else.
Policies
Reduce annual immigration to 5 percent of current level
Create a new ministry of the interior, immigration and secularism
Leave the euro and restore the EU's national currencies
No to halal meat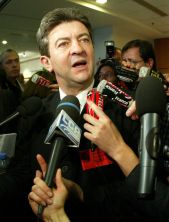 Jean-Luc Melenchon, Le Front Fort (The Left Front )
Mélenchon was born in Tangiers, Morocco, in 1951 and his family settled in France in 1962.
He studied philosophy at the University of Franche-Comté and worked as a teacher before entering politics.
A Trotskyite in his youth, Mélenchon joined the Socialist party in 1977.
At the age of 35, he became France's youngest ever senator, in 1986 under Francois Mitterrand and became minister of professional education in 2000.
Disillusioned by PS policies in 2008 he left the party and co-founded the Left Party with Martine Billard, another former socialist.
In 2009 ahead of the European Union elections, his party joined with other leftist parties to form the Left Front.
Mélenchon was elected to the European Parliament that year as the Left Front's candidate for the Southwest region.
During the 2012 elections campaign he took France by storm with his call for the establishment of a sixth republic and used slogans such as "Let's take back the Bastille!"
Thousands turned up to his Bastille rally, boosting supporters' claims that he is a serious leftist alternative for French voters demanding a more radical left-wing approach.
Melenchon is without contest the biggest revelation of this year's campaign. A poll conducted by Ipsos showed him taking 14.5 percent of the vote, overtaking centrist candidate Francois Bayrou and Marine Le Pen
More people turned up at his rally in Marseilles than to the Sarkozy and Hollande rallies in Paris.
He calls for a return to the values of Jean Jaurès, the founder of French republican socialism and criticises free-market capitalism.
Policies
"Immigration is not a problem" (manifesto)
Strict respect for secularism
New social contract
Let's take back the Bastille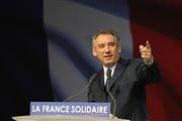 François Bayrou, MODem ( Democratic Mouvement )

The centrist candidate was first elected as an MP in 1986 and occupied various positions including education minister from 1993-97.
With a background in literature he has written several books focusing on politics but also history and the Crusades.
He was previously a member of the UDF (Union for French Democracy), Giscard D'Estaing's party.
He is now the leader of the Democratic Movement and took many by surprise when he won nearly a fifth of the vote in the first round of the 2007 presidential elections.
Bayrou, who comes from Gascony, is seen by supporters as a family man and champion of the French regions and their struggling farmers.
A devoted Roman Catholic, he has a solid following and is strong advocate of the EU.
Policies
Do more to recognise the achievements of immigrants
Redress public finances by making cuts of €50bn and finding €50bn in new revenue
Focus on education and making 50 percent of primary school devote their curriculum to teaching the French language
Eva Joly Les Verts, The Greens

The candidate for Europe Ecology - The Greens was born in Norway and moved to France at the age of 20.
She studied law and sciences politics before working as a prosecutor and magistrate and handled high-profile corruption cases
In 2002 she worked as an anti-corruption adviser to the Norwegian government and became an MEP in 2009.
Joly made the headlines this year after receiving a bullet and threatening letters from extreme nationalists.
She has written several books on law, corruption and politics. In her autobiography she describes herself as "a Viking going back 20 generations but part of me, of my dreams, struck a chord with France immediately."
The Greens have an electoral pact with the PS which has agreed to guarantee the Greens seats in the next parliament in return for their electoral support.
Other hopefuls
Nicolas Dupont-Aignan is a former UMP member who has formed his own party, Arise the Republic
Nathalie Arthaud represents Workers' Struggle
Philippe Poutou represents the New Anti-Capitalist Party
Jacques Cheminade represents Solidarity and Progress