Elon Musk accidentally posted a series of tweets voicing his opposition to President Donald Trump's controversial travel ban on Wednesday (15 February), saying "the Muslim immigration ban is not right."
The SpaceX and Tesla CEO, however, deleted the tweets within minutes.
Signed into effect last month, Trump's immigration ban on people from seven predominantly Muslim countries - Iran, Iraq, Yemen, Syria, Libya, Somalia and Sudan - has drawn massive backlash and prompted protests across the US and around the world.
Last week, three judges from the US Court of Appeals for the 9th Circuit unanimously refused to lift a temporary nationwide block on the travel ban from a lower court.
"Regarding govt policy, there are often things that happen that many people don't agree with. This is normal for a functioning democracy," Musk wrote in a three-part tweet. "The Muslim immigration ban is not right.
"They rarely warrant a public statement. However, the ban on Muslim immigrants from certain countries rises to this level. It is not right."
The deleted, more strongly-worded tweets from the billionaire entrepreneur soon drew interest from his Twitter followers. In response to Scotland-based photographer Sam Cornwell's inquiry about the deleted tweets, Musk said they were "earlier drafts that I accidentally published."
"I said the same thing a week [ago] already."
Many Silicon Valley executives and high-profile technology firms have publicly opposed Trump's immigration ban arguing that it negatively affects their current employees, hurt business interests and impair their ability to competitively recruit high-skilled foreign talent.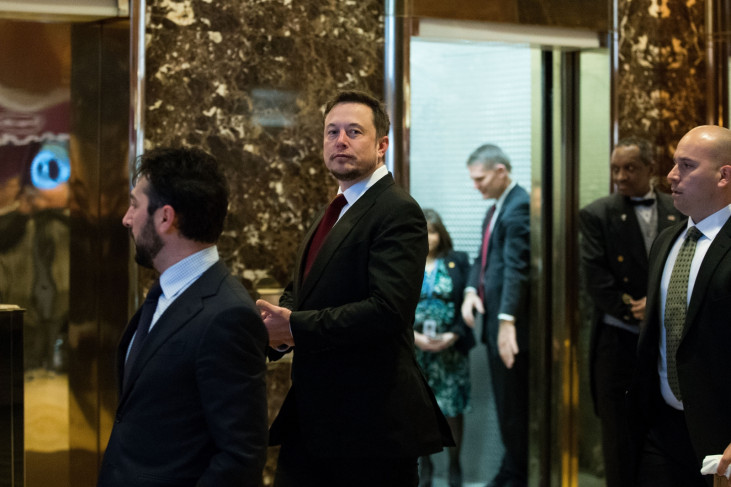 While Musk has raised concerns over the immigration order in the past as well, his language in the deleted tweets were notably stronger than his previous public statements on the issue.
In prior tweets, Musk said: "The blanket entry ban on citizens from certain primarily Muslim countries is not the best way to address the country's challenges." He added that "many people negatively affected by this policy are strong supporters of the US. They've done right, not wrong and don't deserve to be rejected."
Currently serving on two of Trump's advisory committees, Musk defended his decision to remain on the committees following Uber CEO Travis Kalanick's decision to quit the president's economic advisory council. He argued that these councils "simply provide advice and attending does not mean that I agree with actions by the administration."
"I understand the perspective of those who object to my attending this meeting," Musk said. "But I believe at this time that engaging on critical issues will on balance serve the greater good."
He also said he made sure that the president's travel ban was pushed to the top of the agenda at a meeting of the economic advisory council held earlier this month.
SpaceX and Tesla recently joined over 100 tech companies in signing an amicus brief to oppose the executive order.