The 760 miles per hour Hyperloop train designed by Elon Musk could be free for passengers to use and adopt the freemium business model seen by smartphone games.
Dirk Ahlborn, CEO of Hyperloop Transportation Technologies (HTT), the company which aims to bring Musk's dreams to reality, believes the supersonic shuttle will generate more energy than it needs, which can be sold back to the grid to help cover running costs. He also claims passengers could be encouraged to pay in other ways, similar to how gamers pay for extra content in freemium iPhone games.
Delivering a keynote at the Pioneers Festival in Austria, Ahlborn touted the possibility that Hyperloop "might be free to the passenger."
Contradicting claims that the ultra-fast train would cost twice the price of an airline ticket over the same distance, Ahlborn added: "We want to make it something you use every single day many times...ticketing is best way of monetising, or are there other ways to make money?"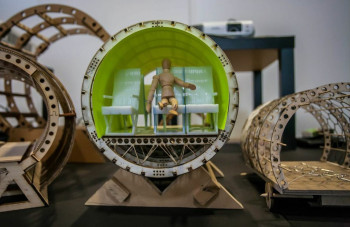 In 2013, Musk, CEO of both Tesla and SpaceX, published a white paper which detailed how the Hyperloop could work.
His plans describe a train-like transportation system which would run between two stations at up to 760mph.
Pods each containing two people would depart every 30 seconds, and with solar panels on the tunnel's roof, the entire system would be self-sufficient.
Musk said he was not interested in building Hyperloop himself, but since then HTT has proposed plans to build a short five-mile test route in 2016, followed by a full-scale line connecting two major cities by 2018. It isn't yet known where these two cities would be, but the project has gained interest from all over the world, including China, the United Arab Emirates, and the US.
Ahlborn added: "I really, strongly believe that if we create a Hyperloop network and it's free - in the off-peak times at least, in peak times we would charge a little bit - but we make money in other ways, that will really change how people live," Wired reports.
The first and last mile
Creating a futuristic train connecting two cities at the speed of sound is only useful if the stations are exactly where commuters need them to be. "We think about the first and last mile a lot," Ahlborn said, adding that ride-sharing between passengers could be a faster, cheaper and more convenient way to get them to and from the Hyperloop stations. "It's super important to figure these things out, not only to get from one point to another - that's when you use it every day."
More than 350 professionals from 21 countries are working on Hyperloop, while more than 400 investors are waiting to get on board with the project, Ahlborn said. They'll be needed, as Musk's original plans for a 400-mile route claim it will cost around $16 billion (£10.5bn).