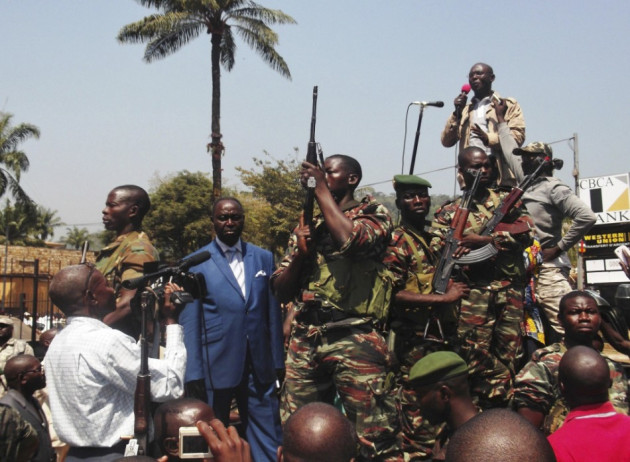 The US has evacuated its embassy in Bangui amid growing security concerns over an advance by rebels on the capital of the Central African Republic (CAR).
US ambassador Lawrence Wohlers and his team of 40 people flew to safety in Kenya overnight, US officials said.
"This decision is solely due to concerns about the security of our personnel and has no relation to our continuing and longstanding diplomatic relations with the CAR," a US Department of State spokesperson said. All operations would be suspended.
The UN has already evacuated its entire non-essential staff from the country.
"The members of the Security Council reiterate their demand that the armed groups immediately cease hostilities, withdraw from captured cities and cease any further advance towards the city of Bangui," the UN said.
The Seleka Coalition, a group formed by rebel fighter factions, has rapidly advanced through the country and taken several important cities.
After seizing Bambari, about 380km (240 miles) northeast of Bangui, rebels advanced to within 75km of the capital.
Seleka aims to topple President François Bozizé, who came to power on the back of a military coup in 2003 and has since won two contested elections.
But rebels claim Bozizé has not honoured a peace agreement that brought factions into the CAR army in 2007.
Bozizé has called for the US and former colonial ruler France to intervene and help the government repel the rebellion.
But France, which has 200 soldiers present to provide technical support and military training for the army, has turned down the request.
"If we have a presence, it's not to protect a regime, it's to protect our nationals and our interests and in no way to intervene in the internal business of a country," French President Francois Hollande said. "Those days are over."
Hollande's words came after a dozen protesters threw stones at the French embassy in Bangui in protest at what they called French neglect.
Only Chad has pledged to send troops - about 2,000 - to reinforce Bozizé.