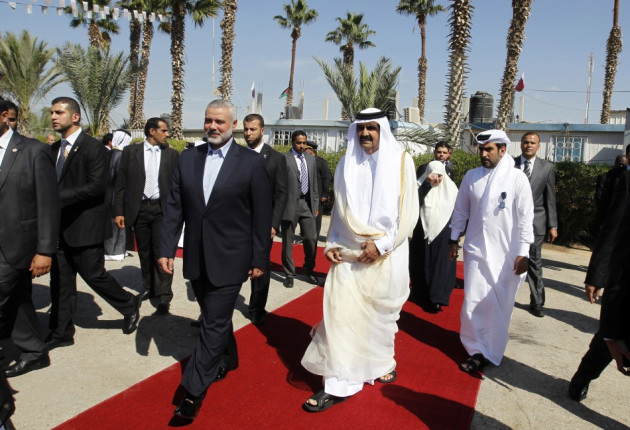 The Emir of Qatar has become the first head of state to visit the Gaza Strip since the Israeli blockade of 2007.
In a move likely to disappoint Israel and Palestinian leaders in the West Bank, Sheik Hamad bin Khalifa al-Thani entered Gaza from Egypt to launch a £158m construction project to help rebuild the territory.
The interior ministry of the Hamas-run government of the Gaza Strip said it had a "well-prepared plan" to protect the emir, who is expected to address a crowd at Gaza City's stadium.
Qatar has started channelling funds to Hamas since it fell out with Syria and Iran, its main backers.
In February, Ismail Haniya, head of the Hamas government in the Strip, expressed his support for the Syrian opposition after an initial wobble.
His endorsement of "the heroic people of Syria who are striving for freedom, democracy and reform" angered Iran, which backs Assad's ruling Alawite sect.
Qatar was the first Arab nation to appeal for military intervention in Syria to oust Assad. The tiny Gulf state entertains good diplomatic relations with the US and Iran and with both Hamas and Israel.
Israel has tightened its blockade on Gaza since Hamas won parliamentary elections in 2006 and ousted forces loyal to Palestinian Authority Mahmoud Abbas in Gaza in 2007.
Qatar has recently mediated between Hamas and Fatah, the rival faction which controls the Palestinian Authority in the West Bank.
Abbas called on Sheikh Hamad to "urge Hamas in Gaza to go for reconciliation and to end this split".