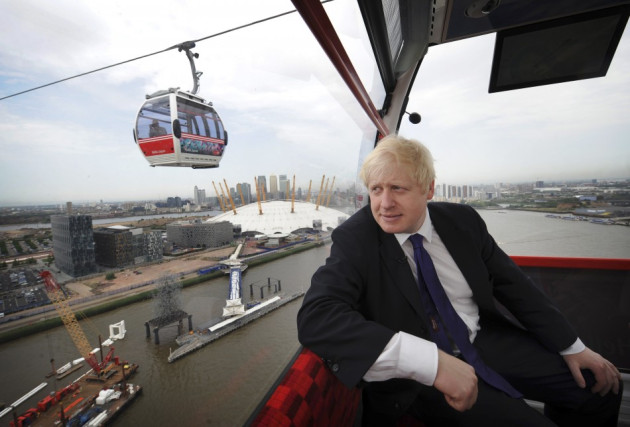 Boris Johnson has been accused of failing to read vital contract documents in a stinging attack on his credibility as London mayor.
Critics blamed Johnson for an apparently discriminatory clause in the Thames cable car sponsorship contract between the Arabic airline Emirates and Transport for London (TfL) .
Jewish lobbyists and London Assembly members reacted angrily to the discovery of the clause which forbade TfL from doing deals with "conflicting persons", sparking accusations it was boycott of Israel by stealth.
Johnson failed to run the rule over details for the £36m contract in the Docklands area of east London, claimed London Assembly Member Andrew Dismore.
Dismore told IBTimes UK: "Did the mayor actually read the contract and if he did, why did he not see this? I do not think he can have read it.
"He's talking about renegotiating the contract now after the event, but why has this been allowed to happen? Why is the UAE imposing its foreign policy like this? It is a boycott by stealth."
Criticism of the mayor followed a spokesman admitting he "was unaware of the clause in question".

Board of Jewish Deputies vice-president Jonathan Arkush said: "The clause dealing with 'conflicting persons' was effectively aimed solely at Israel, and will cause the Jewish community considerable concern."
Uproar at the "discriminatory" deal struck by TfL showed incompetence by Johnson, Dismore said. Accusations of being weak on detail have dogged Johnson's time in office since 2008.
"This is another example of the mayor not knowing the detail. He should not have allowed himself to get in this situation.
"We see time and again at Mayor's Question Time that he does not have the information to answer questions and says that black is white.
"Johnson does not have the grasp of detail to be mayor of London."
The Mayor's Office refused to comment. A source called Dismore's blast "nothing more than a cheap Labour stunt".
A TfL spokesman said: "When the mayor was told about the clause he asked Sir Peter Hendy [TfL commissioner] to speak to Emirates. Following those discussions, Emirates agreed to remove the clause and rework the wording. The mayor is pleased Emirates has moved quickly to clarify the situation."